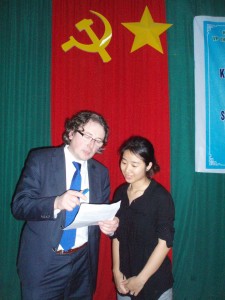 Freda Grealy,  Diploma Manager, Law Society of Ireland
This April three Irish Lawyers from Irish Rule of Law International (IRLI) joined BABSEACLE over a week in delivering three one-day workshops to lecturers and law students in universities in Hanoi, Ho Chi Minh and Hue on practical skills such as interviewing and questioning skills, file management, and aspects of alternative dispute resolution.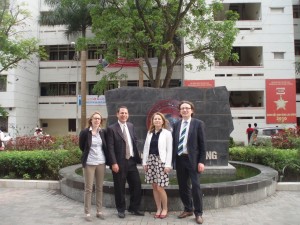 The idea behind this pilot project was to engage the talents of Irish lawyers who have an interest in legal education and social justice and to share their knowledge and experience in order to empower and build capacity locally within Southeast Asian law schools. We were delighted to be working with BABSEACLE to use clinical legal education as an instrument of change. We at IRLI chose to run this project with BABSEACLE as the ability of law schools to provide free legal advice represents a strategic opportunity to strengthen the voice of marginalised groups, empower the communities through rights-based education and support the economic development of the poor.
The IRLI team was made up of two solicitors, Freda Grealy, Diploma Manager, Law Society of Ireland and Sean O'Reilly, Solicitor and one barrister, Sonya Donnelly. Sonya is currently the Staff Attorney (Clinical Programmes) with the Hong Kong Refugee Advice Centre where she develops and manages refugee clinical programming with two of Hong Kong's premier universities. She has also previously worked with IRLI in Malawi and has a vast experience in lecturing. In 2011 Freda had the experience of volunteering with BABSEACLE for six weeks in Vietnam and saw their work first hand.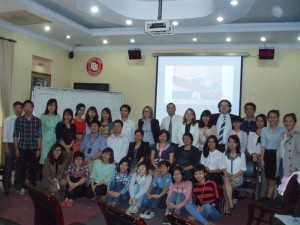 She was impressed and inspired by what she saw and so this pilot project was born. BABSEACLE's overall approach fosters capacity building and trains lawyers to be effective in the community. She was especially impressed that they embraced an experiential and CLE methodology that focuses on workshops, role play, and hands-on practical skills for law students and stressed the importance of ethics, professional responsibility, and social justice. In doing so they provide the opportunity for change in attitudes towards social justice, and towards the role of the lawyer in the wider community.
The objectives for the pilot training visit were primarily to focus on legal education, in particular the design and facilitation of a one day workshop to be replicated in three different universities. The training was skills based; interactive, using role play that simulated real life situations students might find themselves in during their time in a law clinic. In our approach we felt it was important to align with local law and to devise case studies with this in mind. We also provided a number of sample documents which could be adapted for local law clinics. A secondary objective was to build relationships with local partners and BABSEACLE again provided us with much needed introductions in this regard.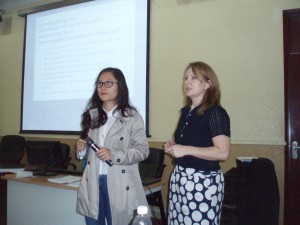 We found the experience truly rewarding and inspiring. There was an excellent response from enthusiastic faculty and students. The sessions were very interactive and enjoyable and we hope to return again. Using the experience of our Irish lawyers who are practicing clinical legal education internationally and looking to best practice for future guidance, we hope that this pilot project will continue and act as an opportunity to advance legal education in Vietnam in a manner that will result in highly trained students. We hope that we can return to continue this work with BABSEACLE and the universities in the future.