By: Phuong Nguyen Tue, Curriculum Development Project Manager, BABSEACLE
For a law student going to university to study different kinds of law, knowing how to apply these rules into specific cases to support a client's case is not always the ultimate goal of producing a perfect, societal product.  He/she needs to understand and appreciate the true "Spirit of the Laws" in order to help provide and address social justice issues and in turn, a fair and just rule of law. It is not always the winning of a case that matters, but ensuring that justice has been served. As well, it is important not to undermine the importance of professional responsibility, legal ethics, and pro bono work each time justice is delivered.
In the introduction of The Global Clinical Movement: Educating Lawyers for Social Justice, Frank S. Block wrote, "clinical legal education is hands-on, professional skills training coupled with instruction in- and initiation into – lawyer's public and professional responsibilities. Clinicians teach law students about what lawyers do, what they should do, and how they should do it. And they teach about lawyering with experiential learning methods that place students in the role of a lawyer, preferably in a real world setting in which they not only face, but also address, social injustice. Clinics are also where students learn about the local community and its legal needs – and how law and lawyers can address those needs".
In 2003, Bridges Across Borders Southeast Asia Community Legal Education Initiative – BABSEACLE began to help support Pannasastra University of Cambodia to establish clinical/community legal education (CLE). Since that time, access to justice programmes now exist throughout the Southeast Asian region; with the development of CLE programmes in both geography and depth and with the given fact that there are many universities in the region that do not have a post-secondary, legal ethics and professional responsibility course, there is a dire need to introduce such a course into the university curriculum, as well as to integrate these essential lawyering elements throughout the vast array of other legal curriculum courses.
Recognizing this need in 2013, BABSEACLE together with Herbert Smith Freehills, DLA Piper New Perimeter (DLA Piper global pro bono initiative), Australian Government Solicitor, BABSEACLE Australia, BABSEACLE Singapore and BABSEACLE Foundation formed a team to develop a curriculum focused on legal ethics, pro bono, access to justice and professional responsibility. Chapters of these curricula are developed so that concepts can be adapted and integrated into the specific country's context.  To make the curriculum easy to teach, each topic has clear, instructed and interactive CLE teaching methods for the Educator to follow in a classroom/workshop context.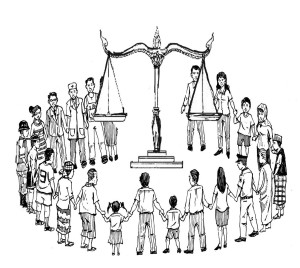 Once this curriculum was drafted, a number of training workshops were organized using different parts of the curriculum at our university partners in Myanmar, Vietnam, Laos, and Thailand. These workshops were used to introduce the curriculum and the project, as well as to receive valuable feedback from participants and trainer teams, which would be used to revise and edit the curriculum. An African proverb states, "If you want to go fast you go alone, if you want to go far, you go with others". The creation of this curriculum is a true testament to going far with others.