Author: Pavina Thephithuck, BABSEACLE and FLP Legal Fellow
On the 25th -26th of January 2014, the Faculty of Law at Khon Kaen University organized a workshop on "Incorporating Clinical Legal Education Methods Into Law Course/Teaching". The workshop was led by trainers from the USA and Thailand who are experts in the field of clinical legal education. These trainers were Dr. Panarairat Srichairat (Vice Dean of the Faculty of Law at Khon Kaen University), Professor Donald C. Peters (Emeritus Professor of Law, Trustee Research Fellow and Director of the Institute for Dispute Resolution at the University of Florida), Martha M Peters (Emeritus Professor of Legal Education at Elon University College of Law), Bruce A Lasky and Wendy Morrish (Co- Directors of BABSEACLE.) There were more than twenty people in attendance including law lecturers and staff from both the National University of Laos and Khon Kaen University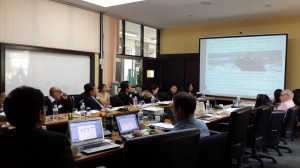 The goal of the workshop was to gather different ideas from law lecturers from Khon Kaen University and law lecturers from the National University of Laos concerning planning on how to incorporate Clinical Legal Education (CLE) methodology into their legal teachings. The workshop also hoped to help new lecturers understand more about CLE, as both universities have agreed to use the CLE methodology in their law classes. Moreover, both universities are also looking forward to having a CLE subject become one of the subjects put in the syllabus by 2017 as a credit bearing course.
Dr. Panarairat Srichairat, Vice Dean of the Faculty of Law at Khon Kaen University, Thailand said, "It was a great opportunity for both participants from Khon Kaen University, Thailand, and from the National University of Laos to learn how to strengthen legal education by integrating Clinical Legal Education methods into law courses. The message all speakers sent to the participants was that the main task of the legal education is not only disseminating legal knowledge but also instilling professional values and skills."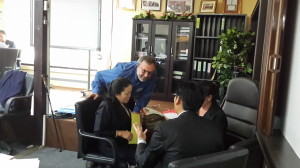 Professor Donald C. Peters, who has been doing clinical legal education for more than forty years, said " The working is informative, enriching and valuable. I particularly enjoyed and learned from active participation of attendees from FLP and KKU. Thanks for a stimulating and rewarding two days."
Martha M Peters, Emeritus Professor of Legal Education at Elon University College of Law, said, "What a wonderful experience of collaborative working and open exploration of new ideas! This workshop was well organized and well-paced. I appreciate being included in this exceptional apportioning to experience two days of engaged learning."
Associate Professor Phaymany Sayvongsa, Head of the Business Law Department at the Faculty of Law and Political Science at the National University of Laos said, "I am feeling very pleased about being able to attend the workshop "Incorporating Clinical Legal Education Methods Into Law Course/Teaching". In the workshop there were many comments and the sharing of experiences working in the CLE field from the experts. I have learnt how to do a lesson plan by using the CLE methodology depending on the different subject and department that fits. Moreover, thanks to KKU for organizing such an event and doing a great job, we were all very pleased and felt welcomed. On behalf of the FLP law lecturers, I would like to say thank you again for making this workshop a wonderful experience, thanks also to Lux-Development for supporting our law lecturers to attend this event and I would also like to thank BABSEACLE."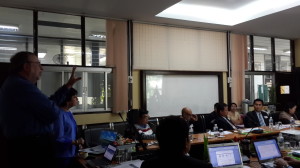 Sengthavy Inthavong, Head of the Criminal Law Department at the Faculty of Law and Political Science, National University of Laos said, "I am very proud to attend the workshop about the CLE work at KKU. It shows that this is the start of cooperation of technical experiences between the two universities. I also hope that we will continue to cooperate and build the relationship between the two universities and develop together.
Khanyalath, a law lecturer at KKU said, "I feel pleased to be the trainer and the participant. First, I knew just about CLE Methodology, just like the patient going to hospital. But after attending the workshop I realized that using CLE methodology is more than that, what really happens is that the law students start taking the knowledge that have learnt in their law classes and using it in real life and also help society and disadvantaged people. They become not just law graduates but law graduates that have responsibilities to themselves and to the society."