In Thailand: Running for Justice – and for the
Laos Law Clinic
By Souliya Vithonthai, BABSEACLE Fellow, Laos
I was very excited to take part in the Trio for Justice.  I really like running – three times a week, I play football and I enjoy running around the stadium.  To prepare for the event, I practiced running every morning and every evening in Laos before our journey to Chiang Mai.
In order to enter the race, I had to raise money for the entry fee.  A whole team of us entered Trio for Justice, 11 student volunteers and staff from Laos CLE — and each of us had to raise 100,000 Kip. This was not an easy task. I asked a lot of people, including the students at CLE, to sponsor me, but it was very difficult to get money for all of us because all of our friends and contacts are the same and so many of us were running.
All 11 of us travelled together to Chiang Mai. It was my third trip to Chiang Mai but for many of the students it was a "first", so we were all excited about going together. The first day after our arrival, we met great BABSEACLE Chiang Mai volunteers and staff and walked around the "Old City". On the second day, we went to a workshop on supervising skills and interviewing clients with students from Chiang Mai University.  The next day, we all participated in BABSEACLE's first Access to Justice Public Interest Fair. We were proud to represent our work in Laos – and to meet many other people doing access to justice work or visitors interested in justice issues. The fourth day was race day, the big event for me!
We had not seen the running route before the day of the race. It was far away from Chiang Mai, in Sankampeang, about 1.5 hours out in the country. It was beautiful! And we had good weather, nice and cool.
We were all at the starting line for the race at 7 a.m., wearing our matching Trio for Justice T-shirts.  The race took me about 40 minutes to complete – and I didn't run the whole time, sometimes I walked. I found it very hard, as it was the first time I had ever run 10 kilometres. All those times that I practiced in Laos I had never run over 5 kilometres.  Imagine how happy I was to learn that I had come 4th overall for the race! I was very happy because I was the first Lao team member to cross the finish line.  Another member of our team, Siguel, decided to go 'round again – he just wanted to run 20km and really enjoyed it!
When I finished the run, I was very happy because I ran with many foreigners and while I was running, I talked to them — I asked them if they were okay or if they were tired.  When we had all finished, we ordered pizza and soda and candy for a small celebration party. Our experience of running that day was really fun and we all bonded together because of it.  The next day, we were very tired and our legs were very sore! I was awarded a certificate for completing the Trio – it is now in my cupboard and I am very happy and proud to have it.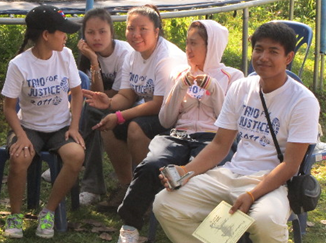 For Trio for Justice 2012, I will train harder so that I can be Number 1!  After completing the Trio, I have started to enjoy running more.  Every day I practice for my health and so that I will do well in my second 10K run.  Of course, I am also very happy that the money we raised by running is going towards a good cause: the first In-House Law Clinic in Laos.  The 2011 Trio for Justice kicked off a very important year for the BABSEACLE Laos team: we hope to open the clinic before the end of the year… and win the 10K race at Trio for Justice, November 11, 2012. Mark your calendars!