Immersing into the Culture
By Shaan Bajwa, Winter Legal Intern from Melbourne, Australia
Immersion week is where interns are placed with marginalized families in rural areas. The aim is for interns to develop a better understanding of Thai culture and awareness of issues faced by these communities. I was placed in Mae Rim, 40 minutes north of Chiang Mai. From Australia and having little experience in social justice work, I was quite keen on experiencing the lifestyle of the locals.
On the red truck ride to Mae Rim, I was a bit nervous as I had no knowledge of the family I would be living with.  My first impression of the family's house was that it looked like an oversized tree house surrounded by a tropical garden. It far surpassed my expectations of a marginalized family's home. A 14-year-old named 'Cat' came to greet me. After saying good-bye to the other interns, I turned back and realised that Cat had disappeared. I felt lonely and lost; I had no knowledge of where I was, I was in an area where I would have difficulty communicating and I had no idea if there were other people at the house.   
I walked into the house and Cat found me. She took me to her mother, Chatay, who was warm and inviting. Chatay had been studying law in Chiang Mai University when she was hit by a red truck near Doi Suthep after a festival. Her husband had not survived the crash and she had lost sight in one eye while suffering from minor brain damage. After the accident, Chatay raised Cat by herself and was advised by a doctor to discontinue studying law. She then studied English in Chiang Mai, which made communicating with her considerably easier than with other host families.
There was another girl staying at the house, Pim. It was difficult to figure out how she was related to the family. After numerous questions and constantly referring to dictionaries to help with translating, I discovered that Pim's father was in prison and that her mother had remarried, leaving Pim with Chatay. I was shocked that Pim's mother would abandon her and quickly realised that although I was comfortable staying in Chatay's world, it was a life I was not accustomed to.
In the afternoon, I accompanied Chatay to the market and helped her set up a small stall to sell fruit. The atmosphere at the market was a bit awkward in that the other fruit sellers and a lady at a fish shop stared at me with open curiosity. When I realized that Chatay would only be able to make 50 baht (less than AU$2) in the day, I felt very spoilt and embarrassed thinking about the amount of money I would spend on a meal in Australia. Despite making such a small amount, Chatay would give a bag of fruit away if one of her 'aunties' walked past her stall.
When Chatay was not selling fruit, she worked as a tailor at her home. While I was staying with her, I only saw two of her clients and believe that tailoring would not have significantly contributed to her income. Chatay was able to support her two children and mother, none of whom could contribute to the household income.
On our second day, we began to teach at Mae Rim School. Our first lesson went smoothly. However, it was a challenge to teach the subsequent class of 25 six-year-olds. The teacher of this class sat outside and the students used the lesson as playtime. Teaching this class was exhausting and only a handful of students benefited from the lesson.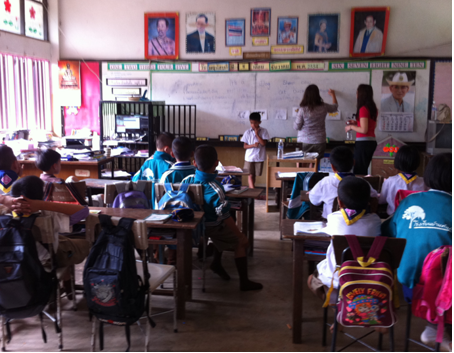 In the afternoon of the third day, we went to the market, where I recognized the fruit sellers I'd met before. I also met some students from school. Walking through the marketplace, I no longer felt awkward. No one was staring, instead they were smiling as if they recognized me, too. It felt as though they had accepted us as friends of their community.
In the evenings, we played basketball with the students. Their English was very poor but we managed to communicate without words. This was a very rewarding experience. After basketball, I would return home with my host students to help Chatay prepare dinner; usually consisting of stir-fry or soup and rice. Preparing dinner would turn into cooking lessons with frequent tastings and simultaneous nodding of our heads while smiling with exchanges like: 'Aroy?'…'Aroy!' (aroy = delicious). Cat and Pim would be in charge of pounding soybeans so that Chatay could make soymilk for breakfast. Once dinner was ready, I would call 'KIN KHAW' (dinner is ready) and the girls would run back to the kitchen.
I think the immersion experience was beneficial in that experiencing the lifestyle of a marginalized family and teaching in a rural school had a far greater impact on my perspective of their world than simply reading about it would ever have had!