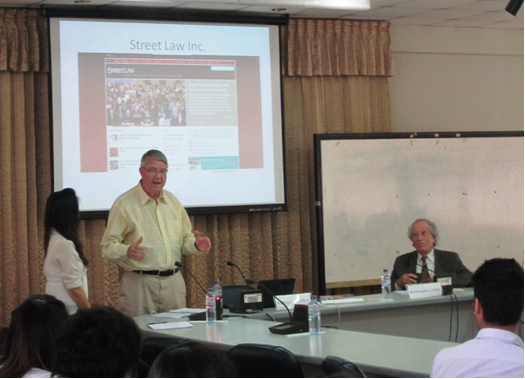 By Ed O'Brien, Executive Director Emeritus, Street Law Inc.
Thirteen Years ago a young lawyer named Bruce Lasky called from Florida and said, "I am going to Cambodia and I want to learn about your Street Law program." Fittingly, we agreed to meet for dinner at a Vietnamese restaurant in Washington, D.C.  We had a delightful meal, during which he pumped me with questions, took some Street Law materials and went off to Southeast Asia.
Street Law Exported To Southeast Asia
A few years later I heard that not only was Street Law active in Cambodia under the name "Community Teaching", but an organization called Bridges Across Borders Southeast Asia Community Legal Education had been born. Now, BABSEACLE operates in eight countries besides Cambodia (China, Indonesia, Laos, Malaysia, Singapore, Thailand, Viet Nam and the Philippines) with more to come, including Burma. BABSEACLE's mission is to bring CLE to regional law schools by initiating in-house clinics and community teaching (i.e., Street Law) and, most of all, by introducing law lecturers to interactive teaching methods.
I embarked this past summer as a volunteer teacher (they called us "international experts", but I believe that was a bit of an exaggeration) and I worked alongside colleagues from universities in the U.S., Canada and the U.K.  Australia was well represented by one of Bruce's co-directors, Wendy Morrish, who prior to her BABSEACLE experience worked on a Crocodile farm and now provides the organization with dynamic leadership and know-how. Volunteer U.S. law students, Law Fellows from Thailand and Vietnam, an English teacher, a Thai teacher, a Canadian expert on sensory perception and administrative staff from around the world rounded out the team.
Most lived together in a compound in Chiang Mai, Thailand, which looked just as you would expect. All sit outside once a week for "movie night" and watch films like Gideon's Trumpet, which showed when I was there, followed by a lively discussion about access to justice.
My work duties included Street Law workshops around Thailand where I was ably assisted by Ann, Ben and Tak, Thai Legal Fellows who knew the language and culture oh so much better than I. If I had ridden on my own on a Thai bus for four hours to a Thai university, I don't think I would have found anyone who spoke English or was able to tell me where to get off. I might still be riding on one of those buses.
Much of our work was to prepare for the BABSEACLE summer school in Viet Nam. To help young law professors get started, BABSEACLE had produced an excellent CLE Manual, which is the best I have ever seen. Despite my technological limitations, I conquered the editing function called track changes and contributed to the final product.
I also participated in the two-week institute, and got to know many of the Vietnamese law teachers, who were delightful people. They were also very intelligent and superbly mastered the interactive style of teaching that the BABSEACLE manual promotes.
… and Side Trips
Though it sounds like the summer was all work and no play, I did schedule a post-BABSEACLE trip to the magnificent Cambodian temples of Angkor (some call it the "eighth wonder of the world") and the delightful adjoining town of Siam Reap.
Also, after one of my Thai bus trips, the university Vice Dean took us to a street stall "restaurant" in Phayao, where he said we would have the "best Pad Thai" in all of Thailand. We did and it was.
Many thanks to the BABSEACLE team, my "expert" colleagues and the United Nations Development Pro-gramme in Viet Nam, who made this trip possible.