Phattharadanai Chaiyayong
Intern and Volunteer Coordinator
I am the Intern and Volunteer Coordinator for the BABSEACLE Thailand office. I am responsible for processing applications from prospective interns and volunteers, and helping them with any questions. One of the challenges I face in my work is that I have to interview people who want to be a volunteer or an intern. I find this challenging because my English is not so good, so I am afraid to do the interviews. I have to understand the person when we interview so that I can summarize the interview.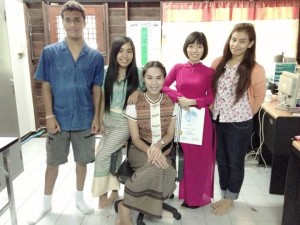 I heard from Bruce that a lecturer from Vinh University in Vietnam would come to work with BABSEACLE, named Hang Trinh. Hang Trinh works at Vinh University and her area of teaching is labor law. When I read her application I was so excited by her experiences during her time in law. She graduated when she was 22 years old, then took the exam to be a lecturer when she was 23 years old, and now she can be a lecturer at university at just 24 years old. During our interview via Skype, when I asked her questions she could respond to some questions in English, but some questions had to be translated from Vietnamese into English. During this time a translator was sitting with me to help to translate the questions. Hang seemed to understand my questions and I saw her try to answer me in English. She looked like such a cute girl and so young. In return I tried to speak with her in a friendly way to help her and make her feel comfortable. We often chatted via Skype when she had a question or was wondering about her application and her visa for Thailand.
Hang arrived in Chiang Mai on June 1st during the night; I waited for her at the BABSEACLE house because nobody was staying at the house when she arrived. From the first time I met her and talked with her, she was a really nice person and very curious. She asked a lot of questions and I tried to answer them all. She was very funny and we were joking and laughing all the time. We assigned Hang to work in the library at BABSEACLE house, making a catalogue. She spent her time working in the library every day until night and also slept there. I saw how committed Hang was to completing this task. She took 1 month to complete cataloguing the library. She devoted her time to this task, working very hard as there were lots of books on the shelves. I helped Hang to do this task, and we wanted to finish the task before she left because she stayed in Thailand for just 2 months. Because of this, we found the work very tiring but we were able to talk a lot together. That is why I feel close to Hang and I can call her my close friend. She is the first friend of mine from another country, who has made me want to visit her family and go to see her once she left Thailand. I have booked my flight to go to Vietnam to see her and travel during my vacation. We have many ways to communicate, and I still send emails to her and tell her stories about what happens every day. We know that if we had not worked together, we would not be best friends now.
Finally, I want to let everyone know that Hang is the one person who I feel really understands my life and my personality. I am thankful that she was sent to be friends with me and want to thank BABSEACLE for giving me the opportunity to meet her and spend time with her.