Sophie Geoghegan
With the 5th Trio for Justice fast approaching (12 Jan 2014), everyone here at BABSEACLE and BABSEACLE Foundation are getting really excited as everything begins to take shape. Our events coordinator, Suphamat Phonphra (Bee), has been hard at work with her team of volunteers from UWCSEA. They have been scouting out potential participants at local gyms, supermarkets and parks, designing and ordering t- shirts, making posters and fliers, gathering sponsors and so much more in order to make this Trio the best one yet.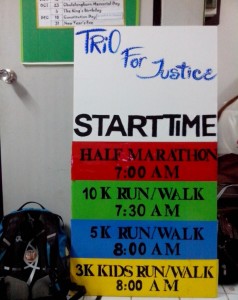 Prior to my arrival in Chiang Mai, to join the BABSEACLE team as an intern, I was emailed by Phat, the volunteer coordinator, who kindly reminded me not to forget to pack my running shoes as I would be expected to hike up a mountain with the other interns and participate in a marathon. After tracking down my trainers (buried under piles of clothes at the back of a cupboard) I moved on to my bigger problem – my fitness… or lack thereof. After four years of a pretty lethargic university experience where my exercise routine involved walking to class and occasionally running to the bar to get an order in before last call, the prospect of participating in an organised exercise event was daunting to say the least.
After finding out that Phat had been exaggerating when she called it a marathon and discovering that I could opt to do the 10km option either as a walk or run I was feeling much better. Not wanting to be completely outdone by Bruce and Wendy and their impressive weekly running schedules, I strapped on my trainers and with the help of a motivational podcast I began my training.
I've been at it for a number of weeks now and I'm pretty sure I am getting better (the concerned looks on the faces of passers by as my red-faced, wheezing self stumbles past, might indicate otherwise, but I will not be deterred.) As the Trio draws closer, the merchandise starts arriving, the advertising steps up and the list of participants grows longer each week, I find myself less horrified by the prospect of running  10km in January and, dare I say that I am looking forward to it.
So, whether you are an experienced runner like Bruce, a motivated jogger like Wendy or a novice like me, grab your running shoes, put some groovy tunes on your mp3 player and come and join us for the Trio for Justice on the 12th of January 2014 at Huey Tueng Park, Chiang Mai.
I hope to see you there (I'll be the one with the super red face, clutching a stitch in her side and gasping for air.)