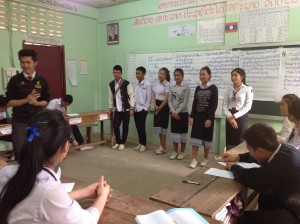 By Pavina Thephithuck (Pa) Legal Fellow for BABSEACLE in Vientiane.
As of 7 November 2013, the Clinical Legal Education, Faculty of Law and Political Science (FLP CLE) has conducted various Community Teaching programs in Vientiane, Laos including the Secondary School and Drug habitation Treatment centre and 5 other secondary schools including Chanthabouly upper secondary school, Chaoanouvong secondary school, Sisathanark upper and lower secondary school and Lao-Viet secondary school.
The first place that FLP CLE started was with the Sisathanark Lower Secondary school. The Director of the Sisathanark  Lower Secondary school participated in the opening ceremony on the FLP CLE community teaching program and the representative from FLP CLE was Ajan. Thatsanalone Sisounoun .
There were 5 FLP CLE volunteers who conducted the community teaching including; Ms. Anoulien Kingkeobounnong, Mr. Soukhee Phimmasen, Ms. Phonesamai
Keonapha, Ms. Leemoua Vangkhai and Mr. Soula Xayounkham.
The program has been planned to run for over 7 weeks, teaching 6 topics that have been picked by the secondary school. The topics are based on the Rights of Children as well as Criminal Law.   There are currently 26 students from Sisathanark Lower Secondary school, who must participate in at least 4 topics to receive a certificate from the FLP CLE, which will be handed out on the last week of the Program.