Kaisone Dalasack (Aj.Sone)
My first time in Chiang Mai has been  participating in the the BABSEACLE Externship Clinic and I would like to share my experience. Before I arrived, I thought the weather would be very cold. When I arrived in October it was hot, similar to Laos, so that was a welcome relief. When I came, I was very happy because the people were very kind and friendly and the culture (including many festivals) is also very similar to Laos.
The BABSEACLE house and office and Chaing Mai University have been very different experiences. In the BABSEACLE house I have learnt new skills. I get to speak English everyday with the other volunteers and externs. I can study the language so I can communicate with them. It is very important for me to improve my English as it is good for my job. When I return to Laos it will also mean that I am able to communicate with more people from other countries. I would also like to visit abroad at some point and it will be useful if I am able to speak English well. It has been challenging but very interesting and I can learn about other cultures.
Another thing that has been very new for me is the work that I have been doing with BABSEACLE. I have learnt a lot about the organization and CLE. I have also learnt about lesson plans and new teaching methods at the Wildflower Home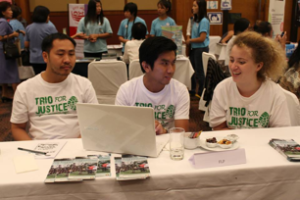 Foundation, wherein I attend and teach legal concepts to a group of young, single mothers. I can apply these new teaching methods and lesson plans to my job when I return to Laos. During the week, I also study at CMU and it is interesting to see how Law is taught here in comparison to the University of Lao. For example Chiang Mai University is bigger than the National University of Lao and it is very convenient for me to get there. There are many things I enjoy about studying at CMU. I take a green bus to school, this is a free service for students. The driver is very friendly and the weather is very fresh. I also get to speak and meet with the other students. Another great thing about Chiang Mai University is that if I want more information about the lessons I can download the information from the website.
All these things have been new experiences for me in Chiang Mai and they have all been very important to me. I feel I have developed from these experiences and I will apply what I have learnt in Chiang Mai to my work when I return to Lao. I really hope I have the opportunity to study here again and be supported by Lux development at my faculty