On the 26th-28th November, 2014, Clinical Legal Education, Faculty of Law and Political Science (FLP CLE) and Bridges Across etc. (BABSEACLE) organized a 3-day workshop at the (FLP) Campus in Vientiane, Laos. Opening remarks were made by Associate Professor Sengphet Outhai, who is Duty Dean of the Faculty of Law and Political Science. There were more than 20 participants, from many entities: the Ministry of Justice; Lao Bar; The Asia Foundation; GAPE; VFI; and law lecturers from each law university and college, throughout Laos, including Faculty of Law, Champasak University; Central Law College; Northern Law College; and Southern Law College. Three BABSEACLE team members, and FLP CLE Lecturer, Ajan Nouphone Phomemahaxay, were trainers, and BABSEACLE Legal Fellows helped facilitate the workshop.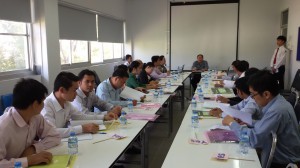 This workshop followed the CLE nationwide strategy planning meeting where it was agreed to expand and support the nationwide development of university based CLE. This was seen as a way to institutionalise CLE as a core part of legal education throughout Laos. The main objectives of this workshop were:
Introduce and demonstrate the importance and effectiveness of CLE, in order to improve the quality of legal education in Laos, and to attract support, from policy makers and law school leadership, for CLE programmes and CLE activities;
Promote the benefits of CLE for education, rule of law strengthening, community awareness and pro bono ethics development; and
Institutionally incorporate CLE programmes into each university general curriculum, as commonly accepted elective or compulsory courses.
The first and second day focused on the nature and goals of CLE, a variety of CLE programmes and CLE teaching methodologies. Afterwards most participants were interested in how to establish and sustain CLE programmes at their own institutions.
"We, the law college, ourselves have our final year law students doing 2 month internships and 4 months of working with the village community before they graduate. It will be very useful to have CLE programmes in our college and train our students before going to the community" – Tai Wang, law lecturer from the Southern Law College, Savanhnakhet.
"I am strongly sure that the CLE programme would be useful to the lecturers as well as for the students to learn theory and practical skills at the same time. Our college has a court room but it is rarely used. We can have the mock trial using case studies so that students can learn to get the solution" Somsack Kuangchalern, law lecturer from the Northern Law College.
After leaving, the workshop representatives headed back to their own law classes and institutions, to put into practice newly acquired skills and activities. Hopefully, they will write about the impacts and importance of CLE programmes, and will obtain administration approval to begin local CLE trainings and programmes.
By: Pavina Thephithuck, BABSEACLE Legal Fellow, Laos