By: Pavina Thephithuck, Legal Fellow, BABSEA CLE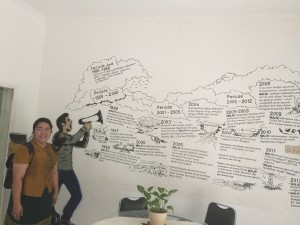 I was nomination to attend 'The Study Visit of Laotian & Cambodian NGOs to Indonesia', began my journey to Indonesia, a once in a lifetime experience that I had always dreamt of, This program was organized by the Human Rights Working Group (HRWG) Indonesia, and was held 30th January – 6th February, 2015 began.
I participated, in the program, because of my general interest in Legal Aid around the world and especially as it relates to Clinical Legal Education (CLE). Specifically, I wanted to learn about Lembaga Bantuan Hukum (LBH) Jakarta, or the Jakarta Legal Aid Foundation, the sustainability of its program and how it works in helping the poor. My expectations were to learn, with others, about how to overcome the challenges of Lembaga Bantuan Hukum (LBH) Jakarta, or the Jakarta Legal Aid Foundation,
The In-House Consultation Clinic at the National University of Laos, Faculty of Law and Political Science, where I work a considerable amount of my time, does not represent client in court. The clinic only provides legal advice. Therefore, I felt that this study visit would give me the opportunity to learn how to plan in the future to help represent client in court like Lembaga Bantuan Hukum (LBH) Jakarta does. Currently, if the client at the FLP In-House legal clinic needs to have someone represent him/her in court it is necessary to directly cooperate with the Laos Bar Association so the LBA can identify a lawyer who can directly help the client in court.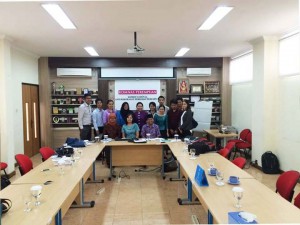 HRWG has the perspective that it is important to build national capacity, in order to respond to regional challenges, especially regarding the integrated Association of Southeast Asian Nations (ASEAN). Before Laos will chair the ASEAN Community, in 2016, Indonesia will do so, in 2015. HRWG aims to prepare for this major undertaking, and I aimed to gain information for Laos' preparation.
During the first 2 days, there were briefings about ASEAN. We learned about: the ASEAN Intergovernmental Commission on Human Rights (AICHR); , the ASEAN Charter; the ASEAN Human Rights Mechanism; what Civil Society Advocacy means to ASEAN and what the ASEAN Community really means to all ten ASEAN members, and to the world, at large.
First, we visited the Wahana Lingkungan Hidup Indonesia (WALHI), an environmental, non-governmental organization that is working on all environmental issues e.g., land and the sustainability of the life and livelihood of Indonesian people. I would say that this organization is very strong in helping people and protecting the environment, especially in Indonesia, but also in countries of the ASEAN region and all around the world.
We then visited the Perludem (Perkumpulan Untak Pemilu dan Demokrasi), a non-government organization that works on the right to vote for democracy in Indonesia. This organization helps people gain access to their voting rights i.e., the right to vote for any party or person of one's choice, in any political capacity or office in the country. I think that free exchange of information is very important, in order to effectively vote for someone who will hear your voice and express your rights.
Lastly, we visited the Ministry of Woman Empowerment & Child Protection (MWECP), to meet with the ASEAN Intergovernmental Commission on Human Rights (AICHR) Representative, in Indonesia, Mr. Rafendi Djamin, and with the ASEAN Commission on the Promotion and Protection of Right of Woman and Children (ACWC) Representative, in Indonesia, Ms. Lily Purba. These meetings mostly dealt with how to support and enable ASEAN women and children to understand more about their rights and their futures in the ASEAN Economic Community.
The third day began with a public seminar on 'The Future of the Seas in East Asia: Challenges and Opportunities', at the Center for Strategic and International Studies (CSIS). This Center is quite interesting, as it is open to anyone who would like to study, learn and share any knowledge in the world. However, unluckily for those from the Lao PDR, a land-locked country, the topic was about the rights of fisherman in the sea, so, we stayed for only one session, and moved on.
We planned next to have a meeting, at the Corruption Eradication Commission/Komisi Pemberantasen Korupsi (KPK), which is a government agency that fights against corruption in Indonesia. While we were there, they and the Legal Aid Jakarta/Lembaga Bantuan Hukum Jakarta (LBH) were in the midst of a corruption case that was about to be presented, in court, and everyone was busy getting information ready. We stayed for 2 hours, could see what KPK and LBH do, and the LBH was helping the KPK to fight for its rights, against corruption. The LBH were vigilant, 24 hours a day, for 3 days before we arrived, and they continued until the judge made a ruling.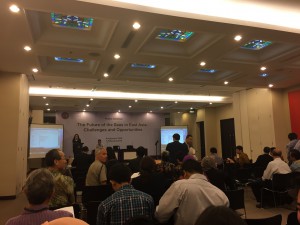 The day after that, we went to meet with the National Commission on Human Rights (KOMNASHAM), which works on Human Rights issues in Indonesia and the ASEAN region. Anyone is able to report issues onto their website. This organization is the 2nd oldest NGO that we have visited and learnt about.
The second stop of the day was a meeting with the National Commission on Violence Against Women (KOMNAS Perempuan). It is an independent National Commission that promotes women's rights, by working to create an environment that is conducive to the elimination of all forms of violence against Indonesian women, and to. They also help them through counseling, legal services and policy advocacy.
We then visited the ASEAN Secretariat forDSG Community and Corporate Affairs, H.E. AKP Mochtan, and discussed, briefly, their challenges, how they overcome those challenges, and how Lao PDR can improve the capacity of its people, in advance of becoming an ASEAN Economic Community (AEC).
The next visit was in the HRWG office of the Human Rights Working Group on the ASEAN base of Human Rights, in order to meet with the CSO and to work on ASEAN advocacy.
The last visit was to the ASEAN Foundation, where we learnt what the ASEAN Foundation does and how they support ASEAN countries and their people.
This ASEAN Study Visit meant a lot to me, because I was able to develop myself and my future, and I got to know more about ASEAN and the Civil Society Organizations that are working, in Indonesia. It was also a very good opportunity for me to see and to experience work in such an effective program. I would like to send a big thank you to BABSEA CLE, to the Human Rights Working Group and to Lawyer Manolin, who allowed me to attend this program.