By Aj Intha Duangpila_Lecturer from National University of Laos (NUOL), Faculty of Law and Political Science, (FLP)
I am taking part in many memorable things, with the Bridges Across Borders South East Asia Community Legal Education Initiative (BABSEACLE) team, including Chiang Mai University, English tutorial, Wildflower Home and the Wat Sai Moon Temple, and would like to share my Chiang Mai experiences, in Thailand, thus far.
One of my main learning experiences has been a much greater understanding of how to work in a professional office. First of all, I never knew that Google drive could help so much with work efficiency. Having learnt this from the BABSEACLE office Thai team, I think that state and private sector organizations can both use this organizational method, in workshops, meetings and for the recording of official time logs.
In addition to my office skills improving, so have my academic strengths. This has been greatly due to my participation in the Chiang Mai University law classes I am attending, which are Administrative Procedure Methods Law and Introduction to Public Law. While attending these courses I have received teaching tips that I can use with students, in my Laos Faculty.
I also have had great improvement in my English language ability. This has included studying with an Australian teacher, who has been here for many years, as well as my own teaching of English to students at a Myanmar temple in Chiang Mai. .
Furthermore, I am directly involved in CLE related outreach events which has strongly helped me develop. For example, every Wednesday afternoon, at Wildflower Home. Through this I have better learnt how to conduct weekly meetings, and to prepare lesson plans, before going to teach law and human rights, to the single mothers there.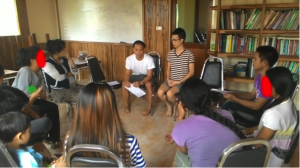 Law teaching at Wildflower Home
Finally, after being in Chiang Mai I now clearly believe I understand the use of Pro Bono, in the community- e.g.. One of the ways we can and should do this is through educational access to justice teachings and actions. .
In closing I would like to say that, even though I have sometimes encountered a few small problems, BABSEACLE always supported me. They even found a used, but perfectly good, laptop and a bike for me! I am so grateful for this whole experience.