Bounleuth Xaphakdy
I have heard stories from my colleagues about the internships at BABSEACLE in Chiang Mai Thailand. Therefore, I was very excited when I heard from Mr. Erik Haggqvist, the chief technical advisor of Lux-Development Project, that the project I was working on would give me the opportunity to train at and visit BABSEACLE and Chiang Mai University for a week in August 2013.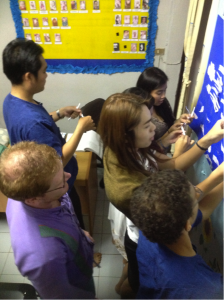 BABSEACLE and FLP CLE have cooperated since 2006. As a new director of FLP CLE I took this chance to learn as much as I could in terms of how to develop FLP CLE. My whole time in Chiang Mai was wonderful, especially my warm welcome from Bruce and Wendy, the co-directors of BABSEACLE. I have learnt a lot of new skills from the staff in Chiang Mai including: human resource management, professionalism, how to set up an In-House Consultation Clinic and fundraising to name just a few.
I had the opportunity to talk with Mr. Tim Dickey, a lawyer from the USA to discuss preparing to open an In-House consultation clinic at FLP CLE, which was very interesting. I also worked with BABSEACLE staff and the law student interns, all of whom granted me lots of new experiences.
Furthermore, Bruce and Wendy gave me the chance to meet Professor George E. Edwards from Indiana University and Assistant Professor Dr. Panarairat Srichaiyarat from Chiang Mai University to discuss the clinics and experiences in Universities. This was an experience I was glad to have been given.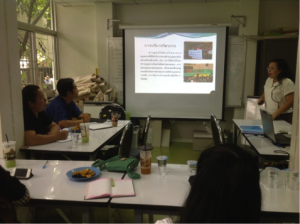 On my last day, I went to visit the Law Clinic at the Faculty of Law, Chiang Mai University. I was given a warm welcome from Ms. Perm, who works at the Law Clinic. She presented the roles of the clinic to the faculty and answered all of our questions, which was very helpful and allowed us to explore more ideas about the clinic and clinics in general.
All in all, I have gained lots of ideas and experience, which I can now use in my FLP CLE role, especially concerning opening the In-House consultation clinic in December this year. I would like to thank everyone very much for giving me such a wonderful time in Chiang Mai. Also, thank you to BABSEACLE and Lux-Development for making this opportunity possible.