By Bruce A. Lasky Co-Director, BABSEACLE.
Less than one week after the incredibly successful 2nd SE Asia/Asia Pro Bono Conference and Workshop in Ho Chi Minh City (University of Economic and Law, Oct 11-12, 2013) Wendy and I were back on an airplane again.  This of course came as no surprise to anyone as our organization has recently been trying to get a formal postal code for my suitcase and economy class seats due to all the work related travel we have been engaged in.
This time was no exception as we flew from Chiang Mai to New York, spent two days and one night, and then were back on a plane to Warsaw, Poland. Without getting into all the logical reasons for this seemingly bizarre travel path, we simply were taking the most economical route to spend the next week attending the 7th Annual Pro Bono Forum and 1st European Network for Clinical Legal Education (ENCLE)  from October 24-26, 2013.
This was our second  time attending PILNET's European Pro Bono Forum (our firs was last year's which was in Madrid, Spain) and we were present at the founding of ENCLE the year before in Poland.
As the legal education, access to justice mission of BABSEACLE has firmly placed us in one of the guiding roles of raising pro bono awareness and building clinical legal education networks throughout Southeast Asia and broader, these were two events that we felt could not be missed. We went to both learn and share our experiences, while simultaneously continuing to strive to build global bridges.
As expected, the European Pro Bono Forum brought together lawyers and NGO representatives to explore how they could best collaborate to address the most critical issues of social justice. Through interactive workshops, engaging social events, and structured networking opportunities, seasoned practitioners and newcomers alike gained insight into the pro bono community and forge alliance to help deliver justice and protect rights around the world.[1]
Prior to the opening of the main forum PILNET organized a workshop on the development of maintaining of pro bono clearinghouses. At this event Wendy Morrish, our BABSEACLE Co-Director and President, and myself were invited to

provide a "Spark Talk – Inspiration in Under 5" presentation on Pro Bono Southeast Asia Style where we speedily but impactfully demonstrated key developments in pro bono initiatives throughout the region in which we work.  Toggling back and forth, with each one of us explaining in less than 15 seconds per slide, we provided a good overview and insight into the amazing regional pro bono movement we are honored to be engaged in.
The following two days found us engaged with pro bono leaders from Europe and worldwide including our long term partners Herbert Smith Freehills, DLA Piper/New Perimeter, the Singapore Law Society and Ashurst.  Much was discussed in many of the sessions we attended, including how BABSEACLE and our partners strongly focus on the need to ensure pro bono education is included throughout legal studies curriculum as a means to build the next generation of pro bono minded champions.  This approach was widely accepted as one of the key necessary core strategies in the development of pro bono culture Finishing up at the Pro Bono Forum event we immediately slid directly into the ENCLE Conference where we were welcomed by many friends and colleagues from within and outside of Europe, all engaged in the development and strengthening of justice education through CLE. Having started only one year before, ENCLE has done incredible work in getting off the ground and this Conference was no exception.  Wendy and I had the privilege, just a day before it began, of becoming the first official ENCLE members by registering online.  We were then continuously referred to as Number 1 and Number 2 by Ulrich Stege, a professor of law at University of Torino, Italy who has been one of[2] the pioneers of clinical legal education in Italy and one of the main motivators in moving ENCLE forward. He also has become a good friend of ours and a real inspiration.  [3]
During this two day conference, attended by more than 50 persons from a wide array of European countries, as well as Israel, Wendy and I were overwhelmed with the energy, passion and family-like atmosphere of all. It was like being back with our own partners in SE Asia and we were very grateful to be there.   Of course not ever use to sitting on the sidelines, we were asked and gladly agreed to provide a session on CLE Program Supervision Tips.  This multi-tasked session went off incredibly well and included ways and means to identify and develop quality CLE supervision programs and supervisors.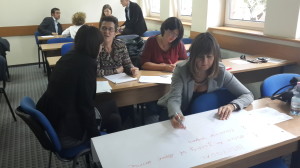 Our entire time in Poland was so memorable. Work, friendship, professional and personal development was achieved. This included one week in Warsaw with beautiful weather, which Filip Czernicki the President of the Polish Legal Clinics Foundation and local co-organizer of both events, was pleasantly shocked over. It also included the consumption of probably way too many pierogies as our smiles broadened along with our waistlines.
Finally, with much accomplished and many future plans set, Wendy and I once again boarded an airplane and with our traveling suitcase "homes" we flew back to New York to begin our next work tasks and some long overdue family time. The New York Marathon was less than one week away, which I would be running in and Wendy would be rallying BABSEACLE USA based volunteers to gather together and root me on, but that is another story.
BABSEACLE would like to announce that our next conference will be partnering with the Law Society Singapore August 9th until the 11th. Details coming soon in the annual BABSEACLE magazine.