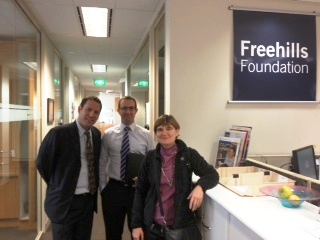 BABSEACLE co-directors Bruce Lasky and Wendy Morrish went to Australia in May to secure collaborations with the heads of pro bono at a number of the country's leading law firms.
"Australian firms have done some great things in international pro bono work," said Lasky, "but one thing they can learn is that while they can't necessarily go into a courtroom outside Australia, they can still be doing what is considered pro bono locally, but on a global stage."
As Lasky explained to Australian publication Lawyers Weekly, BABSEACLE offers the opportunity to work in programs and clinics that "assist com-munities, provide legal aid services and simultaneously help build the next generation of pro bono, social justice champions."
BABSEACLE already has strong ties with the Freehills Foundation of Australia, with a number of the firm's lawyers visiting Southeast Asia to do pro bono work. Executive Director of the Foundation, Annette Bain, will give a presentation on best practices at the First Southeast Asia Pro Bono Conference, hosted by BABSEACLE in Laos this September. In November, Freehills litigation lawyers Michael Mills and Michelle Fox will visit legal clinics in Ho Chi Minh City in Viet Nam and Vientiane in Laos.
The trip to Australia was intended to "widen the net" and secure similar collaborations with other firms. To this end, BABSEACLE Directors Lasky and Morrish met with Ashurst and DLA Piper in Melbourne, both of which offered support. They met with several other firms to show them ways they could collaborate with BABSEACLE outside Australia.
Mutual Benefit
Lasky believes that making a commitment to partner with BABSEACLE can be of huge benefit to both firms and law-yers, in addition to being a benefit to clinics in Viet Nam, Laos and else-where in the region.
"From both a personal and professional point of view it's a brilliant opportunity. It's a great way to travel and meet like-minded people, while at the same time staying focused on your professional career," he said.
"We've had lawyers arriving back to Australia after doing work for us saying they have improved as a lawyer from the experience, by sampling new cultures and by analysing the systems of law in other countries. They can then bring that back and apply it here in Australia, which can only benefit their firms.
__________
Adapted from article by Andrew Jennings in Lawyers Weekly: