"We have the lawyers' privileges, we have to satisfy all of our professional responsibilities"
– Michael Gill –
By: Nguyen Lan Anh, CLE Fellow
After the success of two workshops in Can Tho (12th & 13th April) and Ho Chi Minh City (15th April), a 3rd workshop was organized, in a friendly and effective way, on the 19th & 20th of April, in Hanoi.
Although the workshops only took two days, all the students from the three Hanoi Law Universities (VNU, FTU, NEU) took part in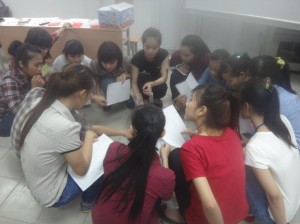 many useful lessons and learned some truly valuable skills. They were highly enthusiastic to be working with four master trainers, who shared many years of practical legal experience. Among them: Freda Grealy, who qualified as a lawyer in Ireland in 1997 and has worked in private practice for many years. She is also the Head of the Diploma Centre at the Law Society of Ireland; Sean O'Reilly, who is a solicitor and Legal Advocate at Sean T. O'Reilly & Co. Caravan for Colombia;Marguerite Michelle Linnanehas, who has worked in one of the big 5 law firms for 15 years; and Michael Gill, a solicitor from DLA Piper who has practiced law for more than 40 years. By teaching conscientiously, they shared their knowledge and experience with students, through the use of slides, practice games, yes or no quizzes, etc.
The workshop continued with a discussion about problems relating to legal ethics and professional responsibility. Trainer Michelle Gill wanted the students, as lawyers, to see and protect their legal responsibilities. Some interestingly titled topics were: "What are Ethics and Why are They Important for Lawyers?"; "The Lawyer and Client Relationship"; "What is Access to Justice, Why is it Important and What are common obstacles?"; and "Why do Pro Bono, and How to do Pro Bono?". Students had many opportunities to understand these topics and were taught how to effectively practice the lessons to be learned from them.
The Trainers gave an overview of the definition of ethics and why they are important for lawyers. They discussed the differing ethical roots between intrinsic and extrinsic ethics and their differing impacts on different individuals. These ideas and concepts were transferred through a wide range of interesting and interactive activities. The class was stimulated and challenged, in groups of three, to visualize difficult situations and ethical dilemmas that they may face during their lives and careers. Students were encouraged to express, without inhibition, their thoughts and opinions relating to law cases for which they needed advice or solutions. Trainers shared many useful lessons and emphasized the importance of the trust that a client places in a lawyer. Moreover, participants were introduced to such topics as access to justice, barriers to access to justice, and ways to overcome barriers to justice, and thus acquired more knowledge about pro bono. They developed a deep desire to become pro bono lawyers in order to help the disadvantaged and those who have little money.
After 48 hours of working at the workshop, the master trainers and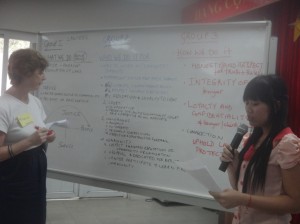 their students sang an Irish song as a farewell. In only two days of training, they all went away with good memories, not only as to practical legal knowledge and skills, but also as to their future use in daily life. I hope that there will be many more workshops that will help students to easily access knowledge of the law, as well as to the practice of the law, because this really creates a bridge that connects the students to their society. There are many people that will still need legal advice and help in the future.
Smiles from TUU workshop