By Trang Tran Le (Ivy) BABSEACLE volunteer.
Over the three years that I have been involved in the UNAIDS project, I have had many opportunities to be in different community teachings on raising awareness of legal rights for people living with HIV (PLHIV). On each occasion, I saw different people with different stories and I felt different things.
Within the framework of the European Instrument for Democracy and Human Rights (EIDHR) project throughout Vietnam, this summer I have been to Can Tho, HCMC, Ha Noi, and Dien Bien for community teachings. In each place, PLHIV have faced various problems in regards to justice accessibility. The training team going into the community includes law students and community trainers, who not only help them to understand and learn about their rights but also learn of real stories and experiences from those they meet.
Story 1: Community teaching is also a kindergarten
Our classes always begin with 25 participants, 2 community trainers, 3-4 law students and 1 CLE Master trainer. Our classes are always full of smiles, discussions and sharing between trainers and trainees. However, no one can forget the crying babies in the room. The little babies go to class with their mom/dad because no one can take care of them at home or perhaps they are not allowed to go to school due to their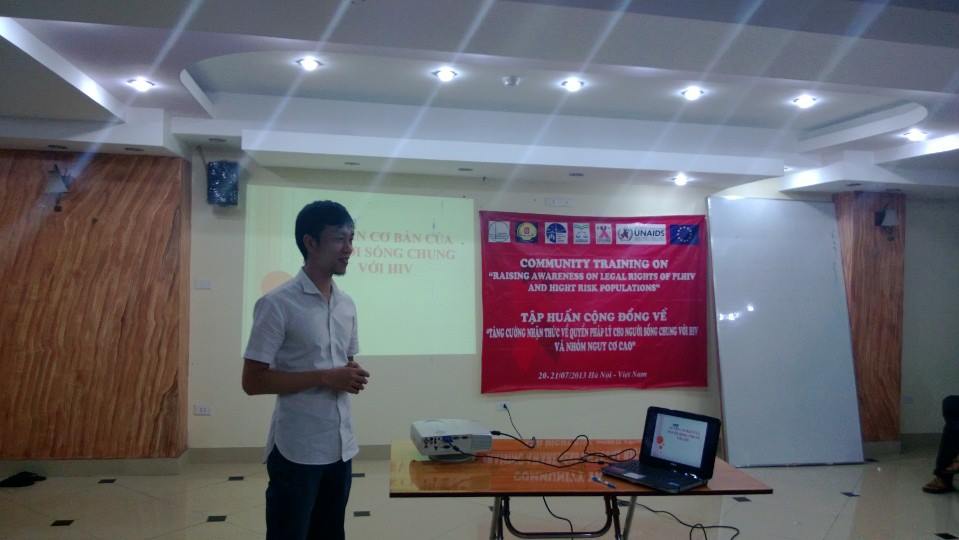 HIV status. I often give them pieces of paper and coloured pencils for them to draw with so that their mom/dad can focus on the lesson. The trainers and students naturally become babysitters when they are free, in order to keep the class on track. A 6 –year-old girl once asked me "Why doesn't my mum let me go to school? I want to draw beautiful pictures, I want to have new friends. Why do I have to stay at home?" It is a question I can't answer. I can't tell her about the discrimination and stigma of society, which prevents her from fulfilling the simple wishes of a child.  However, I can tell her that her mom is learning about the right to education of children living with HIV so that she can learn how to protect her daughter's rights, as well as obtain support. I know she will go to school soon, with support and connections to protect PLHIV's rights. Keep your beautiful dreams, girl!
Story 2: Women were born to be loved and respected
One of the main topics we teach the community is the rights of women living with HIV. One of my favourite interactive teaching techniques for this topic is role-play. In this role-play, there is a woman who contracted HIV from her husband, and when her husband dies, she is kicked out of the husband's family with no compensation and she is not allowed to see her children. What can she do to overcome this situation? Initially, participants will give trainers solutions they have come up with, including but not limited to asking community leaders for help, asking lawyers for help and finding someone who understands HIV to explain to the husband's family that HIV is not transmitted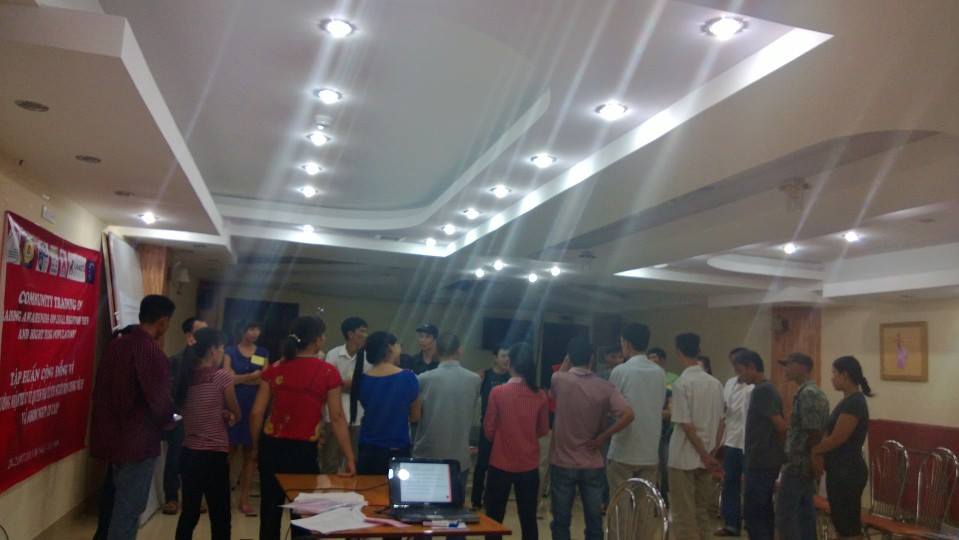 through daily activities. Then the women in the class start to share their true stories, sometimes with tears, because what happened in the role-play also happened to them, or in some cases, worse. They share their difficulties of being a woman living with HIV. In Vietnam, women are often the victims of violence and this is only intensified once they have contracted HIV. During these sessions, our community teaching is not a class anymore; it becomes a place where everyone shares, listens and empathizes so people know that women were born to be loved and respected, in all circumstances.
Story 3: You come to class not only for knowledge but also for skills and values
Before the class, all participants share their expectations and reasons for joining the community teaching, as well as their knowledge, skills, and connections.  However, in some cases it may be just a place where they can share their feelings.  With the CLE teaching methods, the participants feel more confident to learn new things about their own rights. They realize no one can stop them from going to work, going to school or being involved in social activities based on their HIV status. They will be the ones making the decisions based on how they choose to live their own lives.
All the participants can acquire the knowledge, skills and know-how to apply this knowledge into their everyday lives while help others in their community. In addition, they learn to appreciate their current life. They have beautiful wishes such as wanting to "have a happy family and have my own children", wanting their "children to go to school and be successful", wanting "to help other PLHIV understand their rights so that they can find a good job", and hoping "that one day, PLHIV will face no discrimination and stigma." The values come from the way they respect their lives, from the way they apply their knowledge to real life and from the way they try to maintain positive lifestyles in order to build a positive image of PLHIV.
I have now had the chance to work with PLHIV for approximately 3 years, sharing and also learning a lot from the community. The most important thing I've realized is that the community teachings are not defined as succesfful when the agenda has been followed and finished according to plan. Success is when everyone in the class understands that the law is just a theory and it needs to be applied to real cases in order to help people. It is when the trainers can learn from the participants and empathize from their hearts, when participants come to learn, and are ready to share their legal rights with others. I strongly believe that in the near future there will no longer be a stigma or a discrimination against PLHIV.