Clinical Legal Education as a Means to Assist in Reforming the Thailand Legal Education System: Regional and International Experiences and Perspectives Conference

On the 22nd-23rd of November 2013, BABSEACLE and Khon Kaen University, with the support of UNDP Asia-Pacific and the Law Reform Commission of Thailand hosted a major Conference in North-Eastern Thailand that explored how clinical legal education can be a powerful reform tool within Thailand's legal education sector. The conference was followed by a CLE Regional Network Development Planning Committee Meeting on the 24th which was attended by representatives from ten countries.
The Conference, which was held at Khon Kaen University, examined regional and international experiences of clinical legal education. The purpose was to provide a context within which Thai law lecturers, academic staff and others from the region can learn from best-practice clinical legal education models.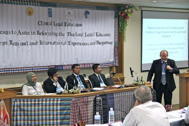 Dr Apirat Petchsiri Dean of KKU Law Faculty opened the conference saying, "We need lawyers with exposure to practical experience. Communication, technical experience and critical thinking are all necessary skills for lawyers. We need reform to develop and train better socially conscious lawyers in Thailand and the South East Asia region.'
The Conference was a huge success with over 100 participants from ten different countries coming together to share their experiences of Clinical Legal Education in their own countries and to learn from experts and one another about innovative ways to implement legal clinics upon their return to their native countries.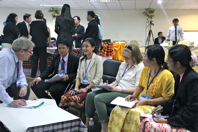 "After a few years of attempts to introduce Clinical Legal Education to Thai legal academia, this conference actually brings us to a new step. Manylaw school deans showed their strong intention to integrate CLE into their curriculum as an accredited course.  It is clear that CLE is not just providing legal service to people, but CLE is an education programme that provides students with practical experiences, understanding on the ramifications of the law, lawyering skills, and values of the profession. Many participants are very keen to gain a best practice model for their programme. This conference also brought social justice educators into international alliances to share experiences, ideas, and also a passion for social justice." – Dr Panarairat Srichaiyarat from Khon Kaen University, Thailand.
The Conference brought participants and resource persons from Cambodia, Malaysia, Indonesia, Laos, Myanmar, China, Australia and the United States of America to provide myriad perspectives and experiences. Participants shared ideas and networked to forge lasting relationships in the hope of building a community of practice that will continue to be a resource in Thailand and throughout the region to draw upon as they implement or strengthen clinical legal education models in their domestic jurisdictions. The Conference drew upon a variety of addresses, discussion forums and interactive activities to promote the methodology and ethos of clinical legal education.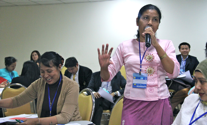 Clinical legal education is an innovative pedagogical method that emulates real-world legal practice to give students a more complete education before beginning their professional careers. By targeting university legal clinics which focus on poor and marginalized populations, clinical legal education can also make an important contribution to improving social justice outcomes and filling gaps in the legal services market.
Ai Ho Nhan from Hue University, Vietnam noted that 'there is a very common awareness among lawyers in Vietnam – many become lawyers to make money – they do not have any awareness of being a lawyer to help communities or widen access to justice – this value is not instilled in them as law students – this needs to be rectified. Students need to be taught their social responsibility and what their role is, and should be, in widening access to justice and helping communities.'
The topics covered in the conference included How Clinical Legal Education solves legal problems, Law School obligations concerning CLE, Overcoming CLE challenges, Regional and international experiences of CLE and CLE Lesson Demonstrations.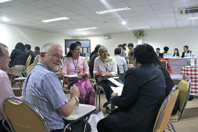 Souliyanh Rouchantha (Vice head of the Business Law Department at the Faculty of Law and Political Science in Laos) said 'We will officially open our legal Clinic in December 2013 and at this conference I learnt a lot, especially ideas on how to establish our clinic and how to incorporate CLE into the legal curriculum at my university. I will adapt and use these lessons in Laos and I believe that this will help us the develop CLE in my country.'
Adrian Evans, from Monash University, and one of the pioneers of clinical legal education in Australia, commented that 'legal clinics change the world, they are not just for law students but the wider communities and societies as a whole.'