Le Nguyen Gia Thien
Law lecturer – University of Economics and Law, HCMC, Vietnam
From the 17th to 18th of April 2013, the University of Economics and Law and Vietnam National University Ho Chi Minh City held the Vietnam Clinical Legal Education (CLE) Network Meeting. The participants of the meeting were leaders of Law Faculties, CLE centres and law clinics throughout Vietnam including: University of Economics and Law; Vietnam National University Ho Chi Minh City, Can Tho University – Faculty of Law; Trade Union University – Faculty of Law; Hue University – Faculty of Law; National Economics University – Faculty of Law; Centre for Legal Consultation and Short Term Training – Ho Chi Minh City Law University; Foreign Trade University – Faculty of Law; and Law Research and Legal Aid Centre – Vietnam National University Hanoi. In addition, there was the attendance and consultancy of representatives from United Nations Development Programme in Vietnam (UNDP) and Bridges Across Borders Southeast Asia – Community Legal Education Initiative (BABSEACLE). Associate Professor Doctor Nguyen Ngoc Dien,Vice Rector of UEL, also attended and delivered a warm welcome speech.
CLE has started and developed at law teaching institutes in Vietnam since 2009. However, as the program is relatively new to the partners, the connection between the partners has not been so strong and collaborative. This issue has created some certain difficulties to the united development of the whole program in Vietnam. This reality demanded an effective mechanism for all the partners to work cooperatively to develop a strong CLE program in Vietnam and work toward the main outcomes to further strengthen the clinical legal education and the social and ethical responsibilities for law students.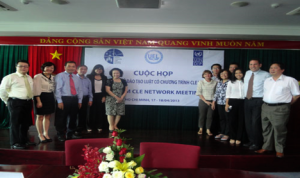 In response to the demand, creating a strong network in order to 'bridge' all the law teaching institutes that have had CLE program in Vietnam is inevitably important. The meeting at UEL has provided the opportunity for all the representatives to participate in the process of building an effective mechanism of collaboration in the future.
All the members of the network have clarified many issues relating to the activities of the Vietnam CLE Network. The activities include agreements on basic understanding of CLE and CLE activities; principles of cooperation; and collaborative mechanisms between members. Based on this, the meeting focused on identifying rights and responsibilities of members in the network and the role of the Coordinating Committee. Participants expressed their main developing orientation as well as the main targeted activities of the network in the upcoming year.
It is undeniable that all the high responsible spirits and hard working, incredible expertise and management experiences of the representatives created the success of the meeting. It has been remarkable for an important developing level of CLE in Vietnam – a meaningful volunteering program which has played an essential role in educating future generations of Vietnamese legal practitioners about professional ethics and  social responsibility.