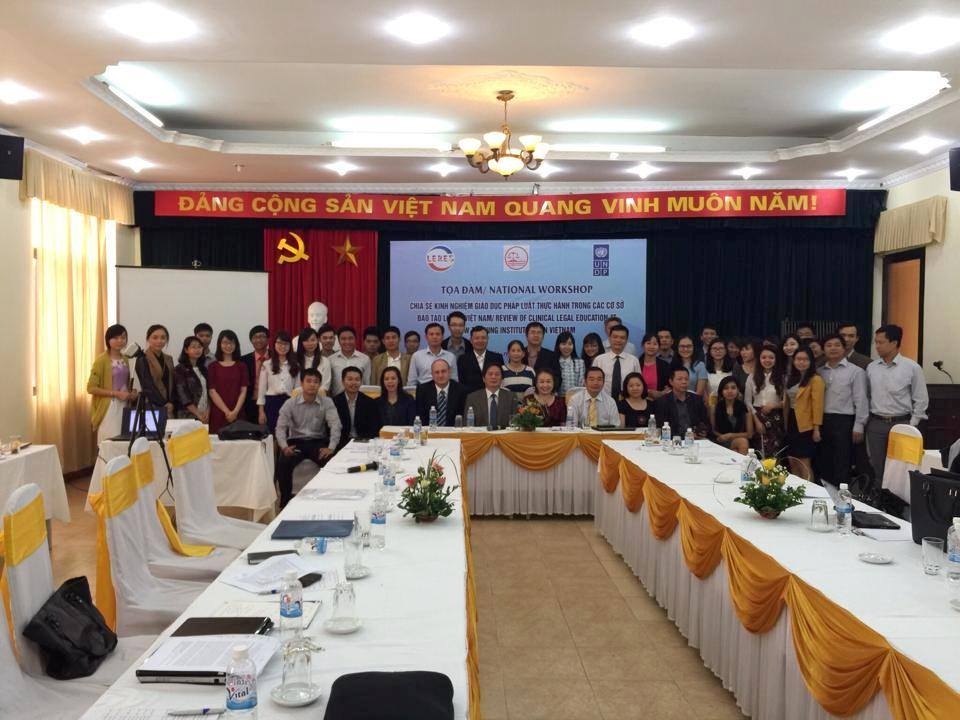 2014 marks the 5th anniversary of UNDP supported clinical legal education (CLE) in Vietnam. Since the 2009 report on building legal education in Vietnam, by Mark Sidel and Nghia Pham, the tireless efforts of local law schools, BABSEACLE, UNDP and other stakeholders and donors, have greatly advanced CLE in Vietnam. In order to evaluate this development and its challenges, and to discuss plans for moving toward a stronger CLE program, a meeting for all nine core members of the CLE Vietnam Network was organized by Vietnam National University, in Hanoi on the 25th of November 2014. This meeting gathered many important leaders and students, from university law clinics throughout the country.
A highlight of the event was the evaluation report named 'Assessment of Clinical Legal Education Program in Law Training Institutions in Vietnam'. This report was compiled and presented by UNDP's independent consultant, Oanh Ngo. The report shared the view of Mark Sidel and Nghia Pham's 2009 report, about the pressing need to have CLE to assist in the reforming legal education and rule of law in Vietnam. The two reports came out during different stages of CLE development, but they both called for support, by UNDP and other stakeholders, to establish and develop law clinics for law schools all over the country. The significant difference between the two reports is that the former could only forecast events, while the latter was able to assess the past and present programme, as it has been utilized by 9 Vietnamese law school clinics. Oanh Ngo's assessments were based on the actual impacts that CLE has had on legal education, access to justice and rule of law, in the country It provided much positive feedback on CLE programmes past success and some valuable recommendations to overcome current and future challenges.
In addition to Oanh Ngo's evaluation report, the event was enriched by the presentations of representatives from different Vietnamese law clinics, who each covered one aspect/activity of their CLE programmes. They shared experiences and reported on achievements and challenges- e.g., deliveries by Ho Chi Minh City Law University, on community teaching for prisoners, and by National Economic University, on in-house law clinics. These presentations provided clear, positive reasons for law clinics to be proud of their accomplishments, and provided additional motivations for them to move towards a more united CLE Vietnam Network.
As 2014 draws to a close, the Vietnamese CLE Evaluation Meeting has been a positive way to close the past 5 years of CLE development and to start a new roadmap for future opportunities and challenges. We, of the BABSEACLE team, cannot wait to see the new achievement of the CLE Vietnam Network and are committed to work alongside them whenever possible and requested. We view the meeting as an opportunity to step back to re-view the past, so that we can step forward to improve the future of CLE in Vietnam.
By Hien Bui, BABSEACLE Volunteer