Judith Reynolds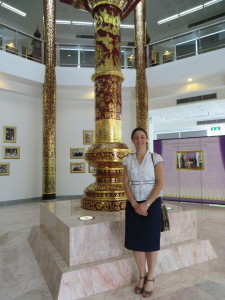 They say that you don't truly understand something until you teach it to others. I've heard this many times before, but did not appreciate how true it was until recently, when I was privileged to join a Community Teaching trip to Pong District in Phayao Province, northern Thailand with students from the Faculty of Law at the University of Phayao, and staff from BABSEACLE. The trip was part of my two month internship with BABSEACLE and gave me the opportunity to witness at first hand the two sides of CLE. Firstly, CLE enables students of law, through teaching legal topics, to attain a deeper knowledge of their subject and an awareness of how it actually touches the lives of people in their own communities. Secondly, CLE is a means of providing relevant legal knowledge and information, and also legal advice, to members of local communities who would otherwise be unlikely to have access to legal services.
The subject for this teaching, one of a round of teachings on the same topic being delivered in different rural communities in Phayao over a period of several months, was to be the acquisition of Thai citizenship. The topic was chosen following feedback from previous teachings, because of its importance and relevance to many members of the communities being visited. Phayao Province, like many parts of northern Thailand, is home to a large proportion of migrants from neighbouring Southeast Asian countries. These migrants, although long term residents in Thailand and settled in their own communities, often do not satisfy the conditions for Thai citizenship or have not gone through the process to obtain it. Intermarriage between different nationalities, and the birth of children with either one or both parents of non-Thai citizenship, are common. In the relative poverty of rural Thailand the lack of Thai citizenship leads to an inability to access crucial public services, and can give rise to real hardship for parents and children alike. It is therefore important that members of these communities have an understanding of the law around Thai citizenship, who is entitled to it and how it can be obtained.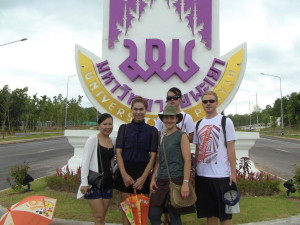 We had received a draft agenda for the teaching in advance, and did our best to read up on the law governing Thai citizenship before the trip. When the morning of our departure arrived we hoisted our bags onto the bus that would take us from Chiang Mai to Phayao City with excitement, looking forward to experiencing a different side to Thai life and a different city. The trip took around three hours and we arrived in Phayao at lunchtime, heading straight to the University of Phayao after a short break at our hotel. We had arranged to meet with the professor supervising the Community Teaching programme, Ajarn Withoon, and the three students who would deliver the teachings for a briefing that afternoon, since we were scheduled to leave for the town of Ngim in Pong District, where the teaching would take place, early the following morning. During the briefing it was clear how much planning and preparation the students had put in to the teaching – they had arranged everything, from liaising with our host community to sorting out transport, accommodation, food and materials for the class. Ajarn Withoon explained how this itself was the result of the students' learning experiences over the course of teachings; from needing help to plan in the beginning, by this teaching (the fourth in a series of five) the students were well experienced in the logistics required to prepare a teaching and could more or less do everything by themselves. We left with assigned tasks for the next day, and a feeling of confidence and preparedness for the teaching.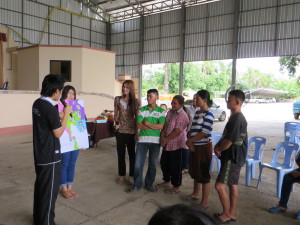 The next morning we were picked up early for the two hour trip out to Ngim. On arrival we set about preparing the teaching space, a large barn-like structure next to the Town Office, placing chairs in a circle and getting the materials we needed for the class ready. By the time the participants began arriving we had lunched and were ready to welcome them, and staff members from BABSEACLE took down each person's details for monitoring purposes. Our class totalled some twenty or so participants, mostly young adults and parents with young children. The class began with an energizing game to set an informal tone, and as we interacted with the participants we could see them relax and begin to engage with the students, who were leading the teaching. Then the students introduced the first part of the teaching, about acquisition of citizenship by birth. The students presented in a clear, confident manner, and in the next activity, a game designed to enable participants to put the knowledge gained into practice and test it out with different scenarios, we observed how interactive teaching methods which engage the participants lead to the participants learning by active experimentation. A bit of fun was had by marrying each of us foreign interns off to participants in order to work out whether our children would, or would not, have Thai citizenship – causing lots of smiles and a few jokes! The teaching progressed smoothly, with a mix of presentation, activities and games, and questions, and throughout there was a relaxed but engaged atmosphere.
After the teaching had concluded, participants were given the opportunity to consult individually or in family groups with Ajarn Withoon and the students, so as to receive tailored advice about their own situations. The vast majority of participants took up this chance to get some one-on-one advice, and it also served as an opportunity for the students to observe how the law they had been teaching applies in real life to different people and their situations. Once everyone had left, records were collated so that the cases consulted on could be followed up in future, and together we cleared and cleaned up the teaching space. We returned to Phayao City tired but satisfied that the aims of the day – raising awareness about and knowledge of the law on citizenship amongst the community in Ngim – had been achieved.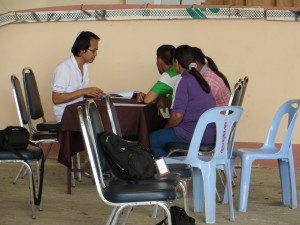 The trip was my first chance to see Community Legal Education in action, and reflecting afterwards on my experience, it was very clear to me the wide range of benefits produced through operating a Community Teaching programme in law faculties. The students who participate gain not only by understanding the law better and seeing how it applies in a real life context, but also by learning a diverse set of skills which will help them in their professional careers, varying from project planning to presentation to interactive teaching.
The community participants in a teaching benefit from receiving advice and information which really makes a difference to their lives, without having to move from their community or pay anything for this. The practice of returning to the same communities periodically to teach different topics (as is followed at the University of Phayao) also forges links between local communities and universities, ensuring that the pool of expertise within university faculties is made use of and can be drawn upon by those who need it locally. I am full of admiration for the students who volunteer their time to be part of the Community Teaching programme, and for the people within law faculties and supporting organisations such as BABSEACLE, who work so hard to make such programmes happen.