CLE and Debate: an "IDEA" Whose Time Has Come
By Tue Phuong Nguyen, CLE Project Coordinator, Viet Nam

2011 marked an innovative milestone in the further development of CLE and access to justice in the Southeast Asia region. This was the year BABSEACLE and the International Debate Education Association (IDEA) began working together to introduce and integrate debating skills – methods and techniques – to strengthen university CLE programs.
IDEA's mission is to develop, organize and promote debate and debate-related activities in communities throughout the world and, with over ten years of experience, we thought they would be the perfect partners to work with BABSEACLE and our partners.
Direct participation in public life is a core democratic governance issue.  The quality of civil society engagement in public affairs depends on the public's awareness of issues of rule of law and access to justice, and on the public's engagement and capacity to advocate for change. Debating is a participatory educational methodology that raises participants' awareness of democratic governance issues, while at the same time strengthening their advocacy capacities.
"Debate is an important activity not only for personal development, but also for cultivating the skills necessary to be an engaged member of society. The evidence shows that debaters are better public speakers, better students, and better critical thinkers. The ability to come together and debate public issues is a valuable skill for people everywhere today."
–Alex Dukalskis, Executive Director, International Debate Education Association (IDEA), USA
Based on this shared concept, BABSEACLE and IDEA worked throughout the year with CLE university partners in both Thailand and Viet Nam to hold a number of debate training workshops. Beginning first in April at Phayao University in Thailand, debating workshops continued until almost the last day of 2011.
These included not only Thai and Vietnamese participants, but, following the common practice applied by BABSEACLE, also involved international legal interns and law lecturers from Laos, Malaysia, Singapore, Australia, the USA, France and Britain.
The content of the workshops included the uses of debating skills, an introduction to the format of a formal debate, the elements of debates and how to prepare for a debate, as well as a chance to practice these skills by having a debate at the end of the workshop.
On December 27, with the additional support of the United Nations Development Program, the international business corporation, IBM, and the SB Law Firm, a Critical Reasoning and Debate Workshop was held at the IBM office in Hanoi.
Participants included law students and lecturers from Vietnam National University, National Economics University, Trade Union University, Hanoi Law University, National Academy of Public Administration and Hanoi Open University. The participants were an important resource and made a significant contribution to the success of the workshop.
This workshop focused on three main components: How to think and reason critically, how to prepare a speech, and how to make an outline. We then had an opportunity to practice debating on a contemporary topic, in this case, "Globalization and The Poor". The contents were effectively conveyed through the use of CLE learner-centered methods and interactive teaching. Participants were strongly encouraged to actively engage in presentations, group discussions, group presentations, arguing and debating.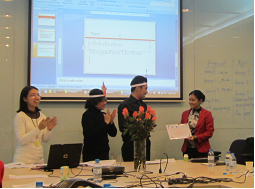 With the arrival of 2012, the goal of BABSEACLE and IDEA is to further integrate debating skills deeper into CLE programs in many partner countries, to both individually develop the skills of the students, as well as to increase access to justice and empower communities throughout the Southeast Asia region.
I really enjoyed the workshop: I learned how to conduct a debate in a professional way, as well as how to prepare for a debate, all of which was very new and interesting to me. – Tue Phuong Nguyen, BABSEACLE Viet Nam Project Coordinator