The training program has come to an end, with a very exciting graduation ceremony that was attended by members of the Pyithu Hluttaw Coordinating Body for the Rule of Law Centres, participants, family and friends.
The Coordinating Body Chairperson, Daw Aung Sun Suu Kyi, granted certificates to the participants from Lashio and Mandalay as well as the national and international trainers. It was a great way to bring the training to an end.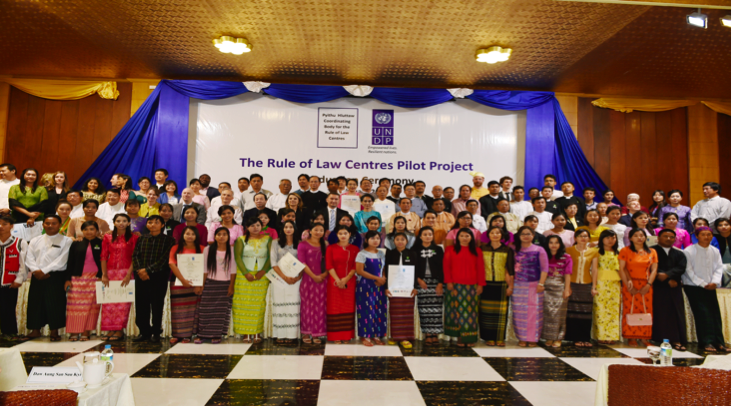 From November 2014 to February 2015, in Lashio and Mandalay, Myanmar, the following topics were presented to participating law teachers, private lawyers and representatives of civil society organisations,:
Introduction to the rule of law and how it compares with national and international law;
Ethics;
Equality before the law – Vulnerable groups;
Public awareness and community engagement;
Evidence;
Alternate Dispute Resolution;
Administrative Law;
Civil Law;
Criminal Law;
Mock Trial; and
The Way Forward – how to use the curriculum
The trainings took place in an e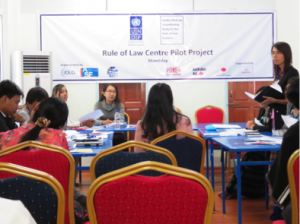 ncouraging, supportive environment, and used interactive methodologies that enabled the participants to get to know each other, to work together, and to reach agreements or to state points of disagreement. Strong networks formed, in and between both locations, which has been a wonderful outcome of the project, because many justice sector actors had not worked together before. The benefits from this extend to the community at-large, in that civil society actors now have contacts, within the law departments and the legal profession, that can assist them with community legal education and with referrals of clients for legal advice. The benefits for members of the legal profession are also great, because they now understand the legal issues that face many members of the community, particularly those who are disadvantaged and encounter strong barriers to accessing justice. No doubt, had there been a wider mix of justice sector actors, the benefits could have been even greater.
Participants had to develop a plan, for themselves, which outlined how they could use the program information and/or incorporate rule of law principles, into their day-to-day lives. Some of the ideas put forward were: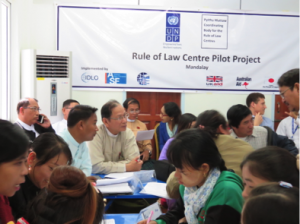 Checking work practices to see how many day-to-day rule of law principles there are;
Knowing which people can assist or advise them, regarding if particular rule of law issues come up on their work place;
Learning many of the pertinent laws and regulations that they had not previously understood;
Understanding how  Myanmar laws are made and implemented; and
Benefiting from different learning styles, including teaching to each other, in order to retain more information about the law.
As a member of the national and international staff teams, I witnessed strong bonds that grew as people learnt: new skills and knowledge; how to impart those skills and that knowledge; to support each other; and to develop new ways of looking at the legal system. It was a privilege to be involved in this project.
By Helen Yandell_Director Australia
 March 2015