By Cao Thi  Duc Vinh, LERES, Viet Nam National University, Hanoi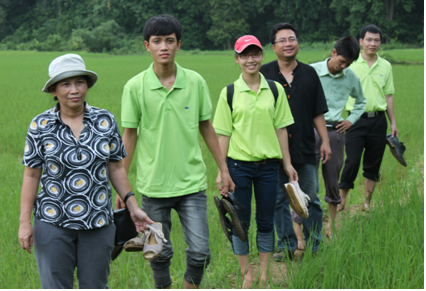 Crossing Trung Ha Bridge, we entered Phu Tho Province and a short time later came to Thanh Son Town, where hill after hill covered in green trees stretch all the way to the horizon. We were in tea country, famous for its tea leaves, buds and seeds, which local people say are the best in the province. We have been practising CLE for several years in urban areas in and around Hanoi, but now we were on our way to do community outreach in the highlands.
Passing Minh Dai Ward, we came to Xuan Dai Ward, the last mountain pass leading to Xuan Son. It was a good place for our team to stop and admire the view of the mountain tops above us and the terraced fields and palm tree forest below us… and to think about our project. As part of the "Support Clinical Legal Education" program sponsored by the United Nations Development Program (UNDP), we — the Centre of Legal Research and Services (LERES) at Vietnam National University's School of Law, in coordination with the People's Committee of Xuan Son Ward and the Board of Managers of Xuan Son National Park – were about to teach two days of legal-rights classes for the people of Xuan Son Ward.
Xuan Son Ward is in the middle of the national forest. Most of the people living there are Dao, of the Muong ethnic minority group, and a smaller number are Kinh, of the Nung ethnic minority group.  They primarly grow rice and cassava and have chickens and cattle, as well. The Board of Managers of Xuan Son National Park has granted them forest land to manage and protect.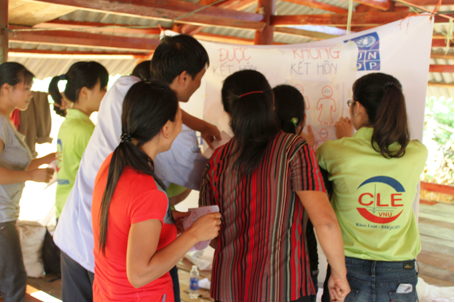 Our team of 30 people included lawyers, LERES staff and VNU-CLE students and we would be teaching Family Law and Forest Law to people in small villages:  Coi, Du, Lap and Lang. To reach Lang, we had to walk three kilometers through the forest on a winding path. Lang and Coi are located in a valley surrounded by limestone mountains. The valley is home to the nine-spur cocks that date back to the Son Tinh-Thuy Tinh legend. Local people live in thatched cottages and houses on stilts.
Coming to our teachings for the first time, the people were very reserved, but it was clear to us that they understood the information in our games about different laws and government policies. They were interested, and soon they joined in and participated more actively.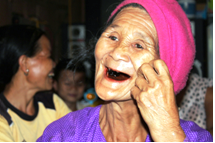 At the end of the community teaching, we answered over 20 questions from the people about forest land grants, managing primeval forest, marriage laws and divorce procedure. Our students not only had an opportunity to teach, they also had an unprecedented opportunity to learn: to enhance their own legal knowledge and presentation skills, but also to get to know the customs of the people living in the highlands.
Here is the assessment of Mr. Ban Xuan Lam, President of Xuan Son Ward: "This is the most effective community teaching we have ever attended. At first, when we heard that there would be student participation, we did not have much confidence. But when we listened to them, we felt very pleased and satisfied. We would like to have another opportunity to invite you, lawyers and students, to come to us."