By Franny Weil: Volunteer
While volunteering with BABSEACLE in March, I had the opportunity to accompany Bruce Lasky, co-director of BABSEACLE, to the "2nd Middle East Regional Symposium on Clinical Legal Education: Developing Clinical Programs and Expanding Access to Justice," in Doha, Qatar.  Bruce was invited as an international community legal education (CLE) expert in order to provide guidance to law faculties that are working to develop or improve their clinical programs in the Middle East.   One of the other three international experts invited happened to be my Mom, Catherine Klein from Catholic University in Washington, DC, whom I hadn't seen since I moved to Thailand in September!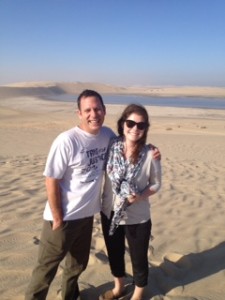 The Protection Project, a Washington, DC based research institute at The Johns Hopkins University School of Advanced International Studies, organized the conference to continue strengthening the network of CLE programs in the Middle East.  The symposium was also co-hosted by the Qatar Foundation for Combating Human Trafficking and the Qatar University Faculty of Law. The countries represented in the conference included Jordan, Egypt, Lebanon, Oman, Palestine, Qatar and Iran.
On the first day, Bruce had an opportunity to speak about CLE curricula, and how they can be implemented in an institutional setting.   He stressed the importance of service and values in CLE.  Regardless of whether the CLE takes the form of an independent clinical program or is integrated through methodology into an existing course, the CLE must maintain a public interest, or pro bono, focus.   In an interactive session, the participants learned about the three integral components of CLE: teaching students knowledge, improving lawyering skills, and, most importantly, creating lawyers with good values and a commitment to social justice.  All the participants were very engaged and excited about bringing these CLE fundamentals back to their home institutions.
Overall, Dr. Mohamed Mattar, Director of the John Hopkins' Protection Project, stressed the importance of individuals in initiating movements.  He asked each representative to sign a membership form to officially create a Middle Eastern CLE coalition.  Within this network, they will be able to find the support and resources they need to continue improving their CLE programs.  By creating the coalition and inviting international CLE experts, Dr. Mattar also empowered the representatives and their legal clinics to connect into a larger global CLE movement.  The conference really showed how far-reaching and powerful CLE can be.  CLE can bring people together to work on access to justice issues within the local, national, regional and global settings.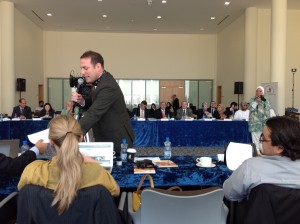 And of course, travelling with Bruce and my mom, there is always some time to explore and have fun.  When not in the conference, we managed to join many Qatari residents in their weekly exodus out of the city and into the desert sand dunes.  While taking in the awe-inspiring desert scenery, we experienced the thrills of being jolted about during a "sand dune bashing" expedition, not too dissimilar from an amateur roller-coaster ride.  In addition, we visited the Museum of Islamic Art designed by I.M. Pei, the famous Chinese-American architect of the Louvre pyramids in Paris and the National Gallery of Art in Washington, DC.  Though short, my trip to Qatar is not an experience I will soon forget.