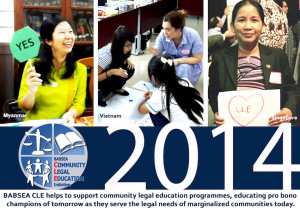 With 2013 coming to a close we would like to take this opportunity to present our 2014 calendar available to download on our website. 2013 has been a hugely successful year for us here at BABSEACLE and we have commemorated some of our achievements in a calendar for 2014. This calendar is now available for download 
here.
The calendar is full of beautiful colour photographs showcasing the work of our staff, volunteers, partners, sponsors and the communities and individuals that our work supports in clinics, universities, conferences, workshops, classrooms and many more. There are photos and information about our externship clinic, the nationwide CLE support programme in Myanmar, the Trio for Justice, the Access to Justice fair and various workshops and conferences.
We would greatly appreciate a suggested donation of US$15 for the calendar so that we can continue to support our many programmes and make 2014 an even more successful year. Donations can be made through our website 
here.
Please download our calendar now in time for the new year and send the link to friends to spread the word of the work that BABSEACLE does.