By: Jason Bruce
Hello, my name is Jason Bruce, and I am a new volunteer at Bridges Across Borders South East Asia Community Legal Education Initiative (BABSEA CLE). I arrived in Chiang Mai, at the beginning of September 2014, as part of the Trent Year Abroad Program (TYAP). Over the first three years of my Bachelor's degree, I learned about the Native Peoples of North America, primarily. Later, in the first semester of TYAP, I learned about the Hill Tribes of Thailand, and I volunteered, in the second semester, for credits.
In my third year of university, I took a course called Law and Indigenous Peoples: Litigating Aboriginal Rights.  As a result of this course, I decided I to do my volunteer placement at a legal NGO. My professor, Don McCaskill, told me that he believed BABSEA CLE would be my best option, as he had other students who thoroughly enjoyed their time at this organization.  He spoke about it as being one of the more structured placements for volunteer students.
Although I've been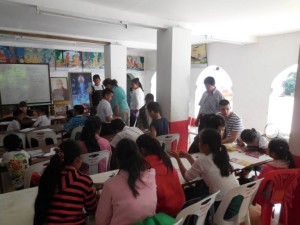 with BABSEA CLE for only two months, my time here has been great. I really like how actively involved the organization is in the community, and I feel that I'm working towards something which consistently makes a difference.  Generally, my work consists of editing many documents, before they are submitted or sent out, but I also teach English, at Wat Sai Moon Myanmar, on Sundays.  Since I plan on teaching, as a career, this opportunity has turned out to be very insightful, and it has taught me to always expect the unexpected, in the classroom.
The BABSEA CLE team is very committed to what they do, and each member works and communicates exceptionally well with the others.  BABSEA CLE co- directors, Bruce Lasky and Wendy Morrish, constantly promote these communication skills, which they teach by example. For instance, they do not baby us or play mother/father roles, and they only answer questions that have been previously reviewed and discussed by each and every member of our team.  As a result, we have a team that is very knowledgeable about each project that every member is working on. There is also an unusual sense of shared commitment, because Bruce and Wendy travel so frequently to our other Southeast Asia offices, that they are rarely at the office in which we work.