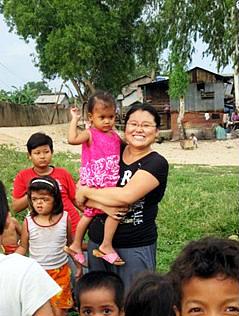 One man. One dream. One passion for ending injustice. The power of one. Before BABSEACLE, I had doubts about this notion of how one person can effectively mobilize change. I wanted to believe it. However, I frequently found myself feeling powerless in the face of injustice, wishing there was more I could do. Whether it was being a special education middle school teacher in one of the most impoverished neighborhoods in Philadelphia or reading another article about human trafficking, I wondered what I, one person can do to alleviate the suffering around me. However, after meeting and working with Im Sopheak, I have come to realize that it's not numbers that ultimately matter.
They definitely help but it is persistence, faith, and love that endures through the discouragements and hopelessness that can come with human rights work. It is through relationships and communities that change happens. Im Sopheak is the Program Manager of the Child Protection and Education Program (CPE) here in BAB Cambodia office. He is a Christian who started an organization called the Lazarus Project where he goes into a slum every Sunday to teach the children Bible stories along with other activities. I offered to go with him since I taught Children's Bible Study at my church. I had no idea of the impact that those two hours would have on me. When I arrived in the community with Sopheak and Heidi, all I saw was a large plot of land filled with grass, dirt, and homes along the sides. About forty children emerged from their homes running towards Sopheak. Some were naked while others wore clothes that looked like they hadn't been washed in weeks. They had huge smiles on their faces as we told them the story of the Good Samaritan and what it means to love their neighbors. A few girls sat on my lap holding me tightly with their little arms. (continued below) Before we left, Sopheak had a bag of candy to hand out to the children.  I was stunned to see the children almost trample each other just for a piece of candy.  Some children cried because they couldn't get one right away.  One older girl stole a piece from a younger girl.  Right in front of me a girl put her hand in another girl's mouth and took the candy from the girl's mouth and then ate it.  In that moment, I wish I could have given so much more to these children – food, clothing, anything.On our way back to get a tuk tuk, Sopheak walked Heidi and I through the community where he talked with the families and the children.  He has been coming to this community every Sunday for the past four years.  I bombarded him with questions, just wanting to learn all that I can. I learned that Doeum Sleng community has 1020 families living in four separate groups.  The Lazarus Project works with group 4, which has 163 families with over 400 children, mainly under the age of 16.  The families are from various provinces.  The land is privately owned and the families need to pay $0.50 a day to live there, having to build their homes by hand.  In addition, they pay $0.40 for 100 liter of water and $0.60 for 1 kilo watt of electricity.  The average income per household is $2.50 a day. Most of the children cannot go to public or vocational training school because they need to work with their families.  Some go with their parents to the market to sell goods while others spend their days collecting plastic throughout Pnomh Penh and others do laundry with their parents.  Many of the parents are illiterate. Sopheak told me the objectives of the Lazarus Project: 1) to motivate children to re-enter school and 2) to successfully re-establish the children's lives with God's love and holistic development.  The Lazarus Project has sent five children back to school.  They also teach about hygiene and safety as many of the children are alone as they go around collecting plastic.  In addition, Sopheak brings children into the city and challenges them to dream about their futures. Many want to work in beauty salons, become teachers, or soldiers.  They are starting to see how they do have a future. Since then, I have gone back with Sopheak to the Doeum Sleng community and am going to sponsor a little girl monthly from the United States where my money will go towards her education, etc. Some of us are donating clothes to the community and I will be donating money for school uniforms and school supplies for the children.  I am also going to raise the money for the moto that Lazarus Project needs in the states.  I have also come to know Sopheak's wife and children. One man.  One dream.  One passion for ending injustice.  In my eyes Sopheak is the hero.  He goes back every week and builds relationships with the children and their families.  The community trusts him.  I trust him and want to keep supporting him as he is the only permanent member of the Lazarus Project.  I am thankful for the Lazarus Project, for the Doeum Sleng community, and for Sopheak who have helped me see the glimmer of hope in the midst of darkness and most importantly, how one person can have such a large impact.
An estimated 260 million baseball-sized cluster bombs were dropped on Laos.  About 30% (78 million) did not explode…yet.  These are a big problem in Laos.  The people who are most often hurt are children who find them (and don't fully understand the danger) and men who work in the fields. Another problem is that the big bombs are made out of iron.  It seems that, even though it is illegal, Vietnamese salvage buyers, will come to Lao villages to buy scrap metal…often harvested from bombs.  Since there is very little income in these areas, it is a huge temptation; and therefore a huge safety concern since villagers are not trained in dismantling these bombs.  And something that had never occurred to me, but is really quite simple: bombs are not made to be dismantled.  They are made to explode.  So, dismantling a bomb is actually the most dangerous thing you can do. For me, the fact that bombing took place is not a problem.  The Vietnamese marched into Lao to use its territory as a transport route to the South.  So, bombing the Ho Chi Minh Trail makes military sense.  The problem lies in the method.  Bombs were dropped indiscriminately over a huge area, not at specific targets.  And now, the effects of the war still linger in Laos, and many people are killed or maimed every year.  What has the U.S. done to fix it?  Well, the U.S. government has, in the past, offered financial support for training bomb-detecting personnel and equipment.  This aid, until very recently, has been largely refused (you can't buy yourself forgiveness).  Other groups and governments have begun training Lao squads to go out to the provinces and remove ordnance.  This problem though, will haunt Laos for generations, due to the sheer number of bombs and mines out there.
It was basically a learning experience for me.  Sometimes, we don't appreciate some problems until we see them, touch them, or smell them.  Is there anything we can do?  I don't know.  What I do know is that simply having this knowledge and being able to share it with others is a start.  And maybe when I'm a senator, I'll be able to bring this problem to its proper attention once again.