By Phattharadanai Chaiyayong, Intern and Volunteer Coordinator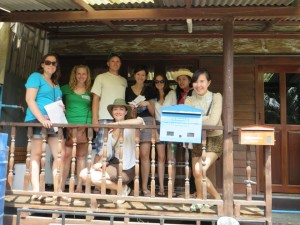 BABSEACLE Legal Studies Externship Clinic offers an opportunity to make a real contribution helping people achieve access to justice throughout the Southeast Asia region while being involved in a remarkable experience of living, working and becoming more culturally aware simultaneously.
In the summer of 2013 (June-July, students from Canada, England, USA and Australia came, initially to Thailand, to join with regional CLE participants from Vietnam, Malaysia, Laos and Thailand to support the legal education and access to justice work BABSEACLE is engaged in.
For the first two weeks the interns attended training workshops designed to give them a better understanding of CLE and the current access to justice issues in Southeast Asia. They also took the time to learn about Thai and other regional cultures to better equip them for observing social justice issues in the region. This included participating in international cooking nights where they could share and exchange cultural experiences and traditions, which aided both their personal and professional development.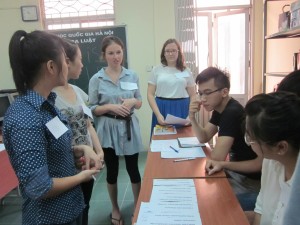 Some then stayed in Thailand, while others undertook internships in other placements, for the next five weeks to practice and learn their new skills to strengthen community legal education. One placement was in Vietnam with our BABSEACLE office, where interns spent time time engaged in a number of activities vital to the strengthening of the work we do. This included teaching CLE English lessons on the weekends in Vietnam National University. They also helped to make and develop a work plan for the upcoming 2nd SE Asia/Asia Pro Bono Conference to be soon held in Vietnam. The second placement was in Laos, where interns worked with VFI organization (Village Focus International) our partner, focusing on monitoring and evaluating the access to justice work VFI has been involved in.
Many other interns remained in Thailand where they worked together with the Chiang Mai local team on numerous projects including curriculum development, proposal writing, legal teachings at the Wild Flower Single Mother's Home, the Trio for Justice, the Access to Justice Fair and many others.
A main highlight of this externship was when most of the interns based in Vietnam, Laos and Thailand all met in Vientiane, Laos to deliver a workshop on legal ethics and communication at the National University of Laos Faculty of Law and Political Science.  The framework for this workshop was previously developed by the interns based in Chiang Mai and visiting professors from the USA, and was first taught at the Chiang Mai University Faculty of Law.
By the end of their time, the students were confident team members capable of making a meaningful contribution to local projects and regional projects.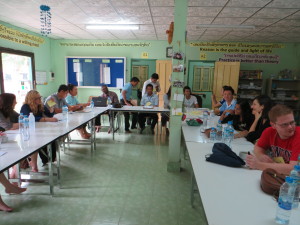 For the final section of the clinic all interns return to Chiang Mai where they had to give a presentation on their time during their internship with BABSEACLE. There was a collective debriefing for everyone to share their experiences and overall perspective. Generally, they reported in their presentations that they had been faced with new challenges that they had previously ignored and that they had a lot of experience building their skills to help them go forward in the future. One of the main benefits from their time as interns was that they had gained a more global perspective about the law as a mechanism for social justice. Moreover, the clinic has changed a lot with each group of interns and has given participants an unprecedented opportunity for networking with many people. They can now, and in the future, help to improve social justice and to build bridges across borders in South East Asia, back in their home countries, and beyond.