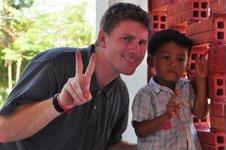 I live in the Sky Park Guesthouse, Lonely Planet's number one recommended semi-budget accommodation in Phnom Penh. It's a bit of a change from the four bedroom apartment I share with Craigslisters in Manhattan, though the boss does speak better English than my landlord back home, which is a big plus.
More than the (way) upper West Side, though, Sky Park and Phnom Penh itself remind me of another place I used to call home – a city called Panzhihua in southern Sichuan Province, China. From 2006 to 2008 I lived and worked there as a Peace Corps volunteer, teaching English at the local university, affectionately known as Panda (a combination of Panzhihua and da xue – the Chinese word for university.)
With a healthy does of bureaucratic understatement they used to say Peace Corps is the toughest job you'll ever love. It certainly was that. I thought about leaving every other day while I was in China, as I struggled to adapt to a culture that is so completely different from my own and do a job that wasn't exactly what I had signed up for.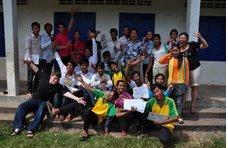 In many ways I feel that what I'm doing for BABSEA is more important than what I was doing while I was in the Peace Corps. Although I believe in the value of teaching English, creating a common language so that people can communicate and hopefully understand each other better, many of my students were disinterested in the subject, having been assigned the major by the university as a sort of punishment for low test scores. The bright ones were doing science and engineering.
Here in Cambodia, I'm helping to write legal manuals which will hopefully empower the Cambodian people by making them more aware of their rights and how to exercise them. I've been able to do some amazing work with the local people here, something which I was repeatedly blocked from doing in China. From helping to set up a community center in a poor village, assisting in a legal training in Kep province (which was only recently pacified after decades of conflict with Khmer Rouge holdouts) and visiting an amazing NGO that helps victims of sex trafficking (check out daughterscambodia.org), BABSEACLE has opened my eyes to a huge array of different issues outside of the office.
None of this is to say that my time in the Peace Corps wasn't meaningful. To me personally it is probably the single most defining event of my life and I have a tie to China that is powerful and enduring. There is a sense of mission which it seems all Peace Corps volunteers possess, a drive to understand the world in all its various complexities. It is something that must be done over and over, lessons have to be relearned for different countries and different times. To begin to understand a place on a fundamental level is something that is difficult to do in two years – let alone six weeks.
Even accounting for the necessarily imperfect lens through which I view it today, Cambodia is, of course, far from perfect. I am absolutely shocked by the poverty in the capital city of Cambodia. Even compared to my relatively small steel town in China, Phnom Penh is under-developed. The roads are crumbling, trash litters the streets and people struggle to survive every day. Without the assistance of international NGOs the consensus is that Phnom Penh would completely fall apart.
The divide between the rich and the poor is even more stark here than in China, as shiny Lexus SUVs push their way past the tuk-tuks and motos filling this city's streets. Corruption is an epidemic and openly accepted as a fact of life by most people. Sometimes I wonder if we're doing enough here. Will these manuals really help? What good is knowing your rights when the government and elites trample all over them with impunity?
But slowly I have begun to see the effect that raising legal awareness has on a community. Yesterday one of my supervisors, and one of the BAB Cambodia Directors, David Pred, got to meet with the Cambodian Secretary of State about an absolutely disastrous development plan, which is on track to lead to the forced eviction of thousands of families and the destruction of Boeng Kak Lake, one of the only open spaces left in Phnom Penh. By all accounts the meeting went well and it would never have been possible without community groups putting strong pressure on the government not to take their land and destroy their lake. BAB Cambodia's effort to raise people's awareness of their rights helped to motivate these groups to fight against interests which previously they would have considered too powerful to be defeated.
The jury is still out on Boeng Kak, but just the fact that this government is willing to talk is a step in the right direction and one that BABSEA helped make possible.
In the end, my experiences working for BABSEACLE are a reflection of the basic mission which captured my imagination while I was serving the Peace Corps. The goals of that organization are as simple as they are profound: 1) Help the people of interested countries meet a demand for trained men and women; 2) Help provide a better understanding of Americans abroad; 3) Help promote a better understanding of other peoples by Americans.
Help. Teach. Learn. At its best this is what BABSEACLE does and I hope that after our internships are over we can take the lessons we've learned in Cambodia, Thailand, Laos, Malaysia, Vietnam, or wherever we may have been and use them to make other people's lives better.