BABSEACLE recently held the 2nd Asia CLE Summer School in Chiang Mai, Thailand. Between the 9th and the 18th of June 2016, more than 50 participants from 16 different countries attended. Justice educators from Vietnam, Indonesia, Thailand, Pakistan, Cambodia, Bangladesh, Nepal, Laos, Italy, Myanmar, Bhutan, Australia, Great Britain, Singapore, USA, Malaysia shared experiences and gained new knowledge to strengthen CLE in their countries.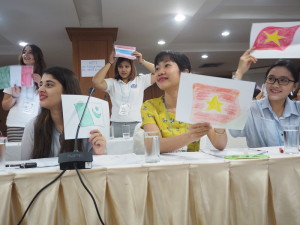 The 10-day Asia CLE Summer School focused on curriculum design for different types of CLE programs, including in-house clinics, community teachings, and externships. A wide spectrum of topics was covered throughout the workshop: the event offered presentations of university partners CLE programs and their strategic plans; other sessions focused on monitoring and evaluating, administrative structures, proposal writing, supervision and mentoring, curriculum design and materials development. The sessions were run by regional and international CLE experts, pro bono lawyers and researchers. All sessions used interactive, participatory, and learner-based methodologies.
BABSEACLE strongly believes that sharing experiences is the best way to strengthen CLE programs, access to justice and rule of law in the region. Thus, the 2nd Asia CLE Summer School was a way to facilitate this exchange as a mean to 'bridge borders' throughout Asia and internationally.