By: Alexis Duecker, BABSEA CLE Intern and law student at Drexel University
At the end of June, members of the Chiang Mai BABSEA CLE team boarded a bus headed for Sukhothai, Thailand, to participate in the Sukhothai Marathon, Half Marathon and 10km event.  Wendy Morrish, Helen Yandell, Suphamat Phonphra (Bee), Marieke Johnson, and I met Bruce Lasky in Sukhothai.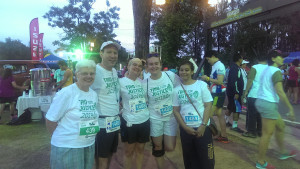 Before leaving the Chiang Mai office, we were busily preparing materials, to bring to Sukhothai, to advertise BABSEA CLE Access to Justice weekend which includes theA2J fair and our own running event, Trio for Justice. The Trio will take place on January 10th, 2015, in Chiang Mai, Thailand.  The morning before the June run, we all traveled, by bus, to Sukhothai, and had ma      terials for advertising A2J and Trio in tow.  When we arrived in Sukhothai, we set about organizing our table, at the pre-race Expo, which was held on the site of amazing temple ruins.
Sukhothai is about five hours South East of Chiang Mai, and I welcomed the opportunity to see more of the Thai countryside on our bus journey.  Sukhothai was the capital of the first Kingdom of Siam, in the 13th and 14th Centuries[1] and was designated as a UNESCO World Heritage site in 1991, due to its Thai[2] historical and aesthetic significance.  During the Expo, we had a bit of free time to wander among the gorgeous "Sukhothai style" temples of brick and carved stucco.[3]  After distributing information about A2J and Trio to many eager potential-participants, the team headed to its hotel, in order to rest before the next morning's run.
We woke around 4:30, on the morning of the race, to warm up, by walking to the starting line.  I participatedin the half-marathon, which began at 5:30 am.  As I began the run, I was energized by the contagious excitement of the other runners.  Although I have done several long runs, at home, in the U.S., the Sukhothai half-marathon was the most difficult for me.  I was still not used to Thailand heat and humidity, despite having been in Thailand for about five weeks.  There were many times that I really, really, REALLY wanted to stop- i.e., a half marathon is 13.1 miles, or 21.1 km, but I refused to give up.
After the run, we continued to distribute information about the A2J weekend to other partici
pants.  Members of our team walked around and handed out cards encouraging people to join us in Chiang Mai in January for the Trio.  We left Sukhothai in the afternoon, feeling proud of ourselves.  The Sukhothai trip has been a highlight of my time, in Thailand, thus far, and I am very much looking forward to our own half-marathon, next year, at Huay Tung Tao Lake.  Runner, walker or none of the above, we hope to see you in January!
To find out more about the Access to Justice Weekend click here: http://www.trioforju
stice.org/
Alexis and Bee after the Sukhothai race – sweaty but happy!
[1] "Historic Town of Sukhothai and Associated Historic Towns," United Nations Education, Scientific and Cultural Organization, http://whc.unesco.org/en/list/574.  Accessed 29 July 2014.
[2] Id.
[3] Id.