Bridges Across Borders Southeast Asia Community Legal Education Initiative (BABSEACLE) co-directors, Wendy Morrish and Bruce Lasky and BABSEACLE team members Nattakan (Ann) Chomputhong, Suphamat (Bee) Phonphra, presented, at the 7th International Legal Ethics Conference (ILEC), which was held at New York's Fordham Law School, July 14-16, 2016. Over 400 participants, from 60 countries, who shared a commitment to teach future lawyers how to practice ethically, came together to promote an interest in studying the work and regulation of lawyers, from a variety of perspectives, and a desire to exchange knowledge and experience. More than 80 programs were delivered, over the three-day course.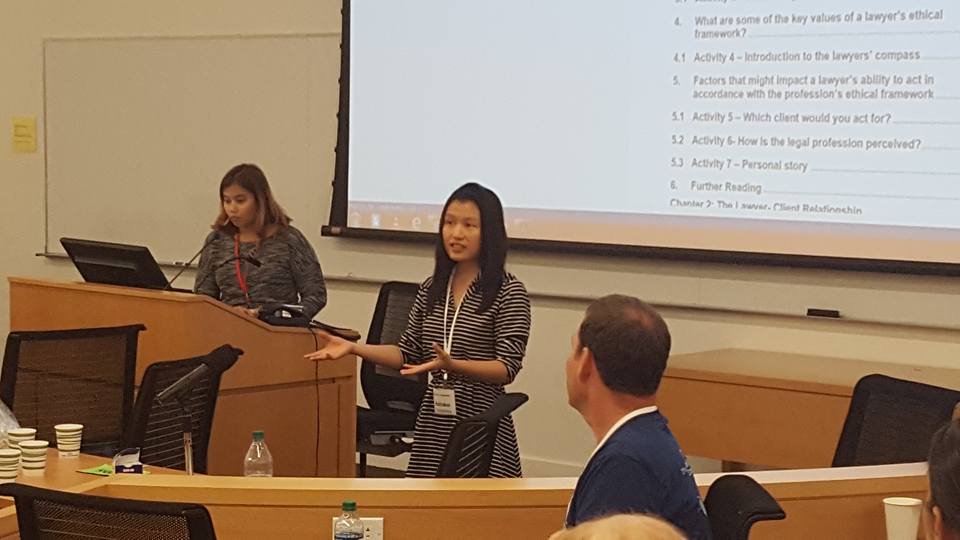 Nattakan (Ann), Suphamat (Bee), Wendy, and Bruce were demonstrating part of the interactive lesson from Legal Ethics, Pro Bono, Access to Justice, and Professional Responsibility Curriculum.
The BABSEACLE team expounded upon the synergies of legal ethics, pro bono, justice education and legal aid, as a mean to achieve greater access to justice. The session began with an introduction of BABSEACLE, as an international not-for-profit organization, which collaborates with various partners, organizations and vectors, and tries to consociate them, in order to strengthen access to justice, through related methods, systems, activities and initiatives. Very often, the justice educational sector, legal profession and legal aid providers provide independent support to the access to justice movement, on separate issues, often parallel, occasionally inconsistent and sometimes even incompatible i.e., like the metaphorical body brace that can either support or cripple, depending upon its implementation. It appears that the key to achieving greater access to justice is "collaboration".
Session examples detailed the collaborative work, between BABSEACLE and a consortium of partners that is located, throughout the Asia region, and globally, such as university CLE programmers, pro bono and legal aid lawyers, governmental advocates and a variety of legal sector actors- e.g., the development of legal ethics curricula by BABSEACLE, DLA Piper/New Perimeter, Herbert Smith Freehills and the Australian Government Solicitor. There is a need to standardize a draft course, which can be locally contextualized and introduced into university curricula, that focus on legal ethics, pro bono, access to justice and professional responsibility, and which provides a practical framework that delivers interactive and experience-based methodologies and instills ethical conduct. Such a course has already been delivered to numerous universities, justice educators, law lecturers, non-profit organizations, students and lawyers, throughout the region and globally, and a number of trainings have been conducted, which enable them to introduce, explain and deal with these topics. Lawyers, law professors and public prosecutors attended this session, played roles as learners, and demonstrated some interactive lessons from the curriculum.
The conference was successful, partly because participants were interested in receiving teaching materials and curricula that were shared. In fact, they have since been adapted for teaching for legal classes, in Australia and Peru. Participants also share and learned from each other.
I learned many different ways to teach legal ethics, heard how people personally dealt with ethical issues, and met some who are interested in assisting lawyers do legal ethics training, in Asian universities. I very much look forward to collaborate with others, through this initiative, in order to strengthen legal ethics in the region.
By Nattakan (Ann) Chomputhong, Legal Trainer of BABSEACLE