A Freehills "Fellow" Teaches Lawyering Skills and Learns about Life in Viet Nam
By Matthew Goerke, Freehills Lawyer, Volunteer 2011
In April and May of 2011, I was lucky enough to spend six weeks in Vietnam and Thailand working with BABSEACLE – an experience that provided me with a unique insight into everyday life in Vietnam and also an appreciation of some of the structural disadvantages faced by the average Vietnamese person. In Vietnam, access to justice, rule of law and procedural fairness present everyday problems.
BABSEACLE aims to provide access to justice by helping to establish free legal clinics operated by law universities and their students. A large part of my time in Vietnam was spent teaching basic legal skills such as interviewing, counselling and ethics to law students and lecturers in the hope that they would use those skills when working at the legal clinics. I also spent time working with a university in Hanoi, helping them to establish the policies and procedures for running their free employment-law clinic. I found the Vietnamese law students to be some of the most enthusiastic learners I have ever met – an enthusiasm that extended to their participation in the inexplicably popular Viet-namese legal teaching tool, the hokey-pokey.
BABSEACLE also aims to support access to justice by providing community legal education, in which Vietnamese students and lawyers are sent into villages and minority groups to conduct educational sessions on topics such as citizenship, land rights and family law.  Although language was an obvious barrier for me, I am proud to say that by the end of my trip – without the assistance of an interpreter – I was able to properly pronounce 'hello'.
Another of BABSEACLE's aims is to build a culture of professional responsibility and an ethic of public service within the Vietnamese legal fraternity. During my visit, I was asked to describe the pro-bono culture at Freehills, the law firm where I work, to people as varied as the Chief Justice of the Supreme Court in Chiang Mai, Thailand, to first-year law students in Ho Chi Minh City, Viet Nam. In 2012, BABSEACLE will be holding a pro-bono conference for the legal community in Southeast Asia to help showcase some of the work going on in the region and to help gain financial and political support for their programs. Bear in mind that simply walking into a law classroom in Viet Nam requires the approval of local government officials.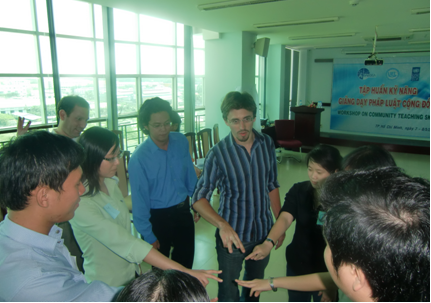 The Freehills Foundation has a very close working relationship with BABSEACLE. The Foundation currently supports a free legal clinic at the University of Economics and Law in Ho Chi Minh City that focuses on youth homelessness and unemployment. The Foundation is funding the clinic's core operational costs, as well as training workshops for faculty members and students. The Foundation also provides financial support for a young law graduate who works full time in the legal clinic. And, happily, they also support "law fellows" like me!