Trio for Justice Website: www.trioforjustice.org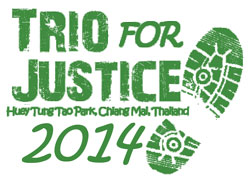 The Fifth Trio For Justice is a half-marathon run, 10K run/walk, and 5K run/walk, as well as an additional free 3K for kids, with a purpose to raise awareness about access to justice issues in the region and to raise funds for BABSEACLE and the BABSEACLE Foundation and many access to justice projects.
Last year, we had over 150 runners/walkers. We expect even more participants this year and we are sure they will enjoy running around the lake in this beautiful park not far from central Chiang Mai. Funds raised will support BABSEACLE Foundation's work with Thai universities to establish and support legal clinics in Thailand, as well as BABSEACLE and BABSEACLE foundation projects supporting university-based and community-based clinics throughout the region — working on many issues including  land law and sustainable development, the rights of stateless persons, rights of persons with HIV, migrant worker rights, prisoners' rights, juvenile justice, access to health care, and the rights of transgendered people and sex workers.