By Wendy Connington volunteer
On the weekend of January 12th, one of BABSEACLE's most significant events took place: the 5th Trio For Justice.  This running and awareness-raising event brought together people from across the globe to run, have fun and promote access to justice issues. Although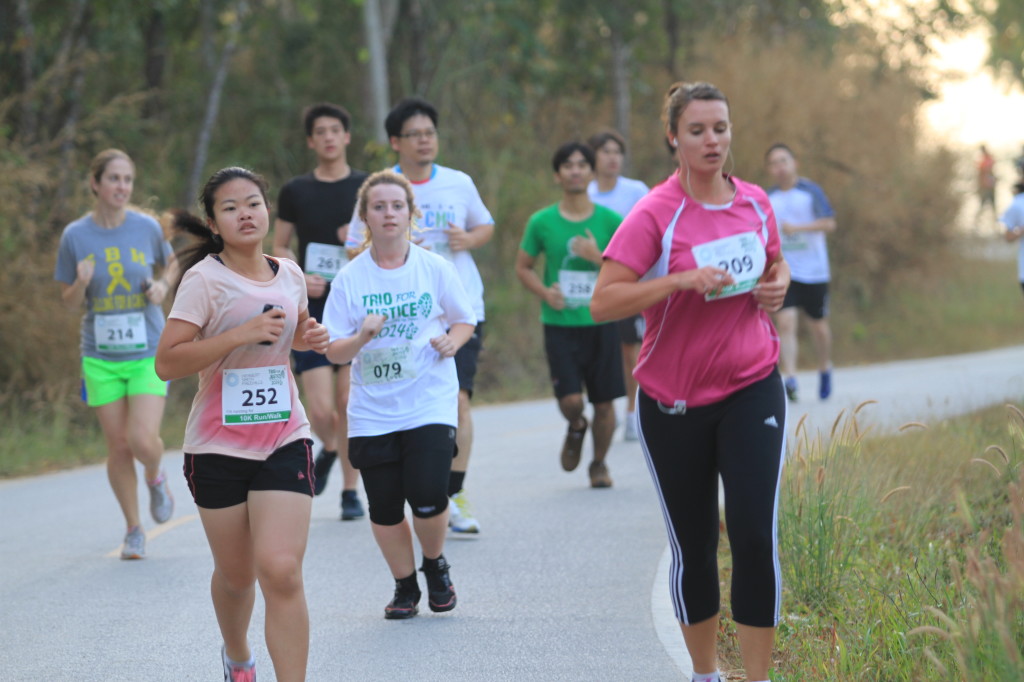 a running event, it was used as a means of harmonizing BABSEACLE's philosophies of raising access to justice issues, bringing people together from all around the world and having a great time.  It was a great day for BABSEACLE as we had our highest number of attendants; 400 volunteers of different ages, nationalities and walks of life came to run or walk the 3K, 5K, 10K or 21K. All of the volunteers and staff thoroughly enjoyed this day, as it was empowering to see how months of hard work could be culminated into such a wonderful event.
After the 4th Trio For Justice we immediately began working on this year's event to prepare for what would be a fantastic day. Our organizer Suphamat (Bee) Phonpra began the arduous task of promoting, organizing and managing our event. With hard work, determination and a vast team of volunteers we managed to hold an incredible 5th Trio For Justice run and Pre Trio Dinner.
This year we experimented with hosting our Pre Trio Dinner at the BABSEACLE house. We had a three course buffet dinner with both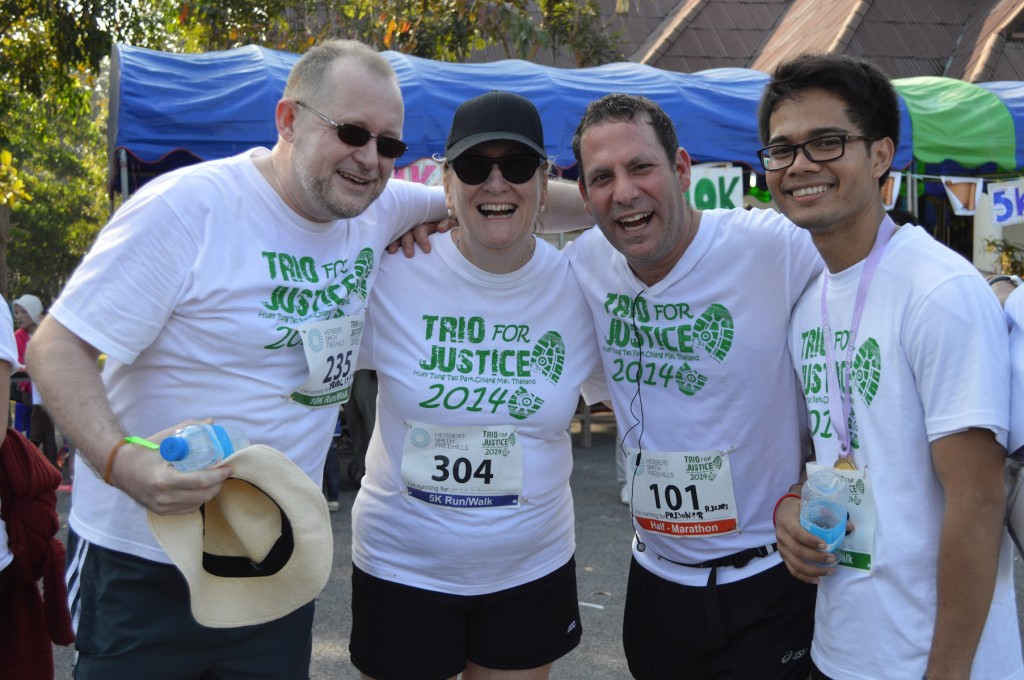 Myanmarese and western foods, consisting of a soup starter with salad and Thai style fried chicken. For the main course, we had a vast array of dishes from Myanmar, as well as spaghetti with homemade pesto and tomato sauce, which was perfect for carb-loading.  We also had several guest speakers who helped us raise awareness and spread our cause, including Annette Bain from Herbert Smith Freehills, Pavina Thephittuck from our team at the National University of Laos and Alicia Cook from the International Thai Foundation. Following dinner, national dances from Australia, England, Cambodia, Laos, Thailand and Singapore were performed. The performances were lovely and filled everyone with the happiness that comes from sharing our cultures and good times. The night was a roaring success and will be repeated in the coming years.
We began the day of the Trio for Justice run by setting up our equipment at 4:30 AM and watching the sunrise in the tranquillity of the Huey Tueng Tao Park. Then came the runners and participants who were running one of four runs: a 3K for children, a 5K, a 10K or a gargantuan 21K. Regardless of which of the four runs you chose to participate in, you where enthralled by the atmosphere and community of BABSEACLE. We had runners from Cambodia, England, Hungary, Canada, Hong Kong and Laos. There was also a mixture of all different ages including children from schools, retirees and young spring chickens.  People of various ages and countries ran in support of our cause helping to raise awareness while engaging in a communal and fun atmosphere, full of high fives, support and plenty of smiles. For the post Trio, we had a raffle in which participants were ecstatic despite having completed exhausting runs.
The weekend was a magical affair and one that we will repeat next year on the 11th of January 2015. As we start our preparations for the next Trio for Justice and Pre Trio dinner we hope to encompass the same atmosphere of community and fun that we successfully created this weekend. Thank you to all the participants, volunteers, staff and interns who contributed to making this event a success.
Photos from the event are now online and available for download for a nominal fee here.