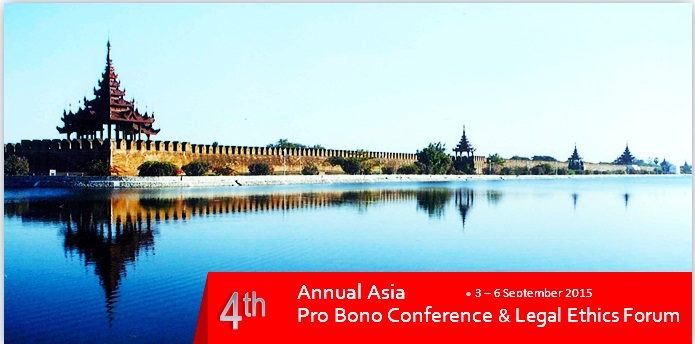 September 3-6, 2015 Mandalay Myanmar
The Conference supports a movement
The philosophy of the annual Conference is unique because it aims to initiate a wide movement of practising and promoting pro bono and legal ethics among different stakeholders in the whole Asian region. It does so by selecting a specific country and local partners in that country to host the event and rolling it out every year to other countries and partners. The Conference is designed to make sure pro bono and legal ethics initiatives are not only being named but are actually undertaken by participants of previous Conferences by having reporting and sharing experiences panels.
4th Annual Conference Focus – 'Pro bono and Legal Ethics'
"The concept of service pro bono publico is found at the very core of the profession.  In fact, it distinguishes the practice of law as a profession." Justice J-C Major
While legal ethics and professional responsibility themes will be featured consistently throughout Conference, there will be a core emphasis on this topic on Day 4.
The Legal Ethics Forum will provide lawyers and non lawyers with the opportunity to debate on the relationship between pro bono and ethical commitment and discuss the development and strengthening of legal ethics training and educational programmes, best practice standards, and ways and means to ensure compliance with these standards throughout the region.
What makes this Conference unique and different from many others?
We are sometimes asked why should this Conference be supported if there are others in the region also seeking support? We believe the answer is simple. Unlike other pro bono conferences/events, the Annual Asia Pro Bono Conference and Legal Ethics Forum is unique and special in nature.
Firstly, the development of the Conference and program symbolizes the true collaborative philosophy and approach BABSEACLE and its partners are known for. Rather than the Conference and program being driven by any one organisation, a collective group of renowned individuals and organisations working in the Asia region have come together as volunteers to ensure the event achieves the standards set out above. This is a true pro bono law network in practice.
As a result, each year the program is guaranteed to be rich and diversified with topics that are thematically, contextually and practically related to the national, regional and international issues of the participants attending.
Furthermore, having the Conference and Forum co-organised by regional university partners, ensures it doubles as a capacity building event for these institutions. When the event is completed, these institutions are left with a much greater knowledge of how to organise similar events in the future, collaboratively or independently.
The Conference also strives to ensure that a considerable amount of deserving persons from the region are assisted financially and technically in order for them to be able to attend. This is done in many ways including:
The use of Conference sponsorship donations specifically targeted for this purpose
The use of registration fees from fully paying participants
Assisting partners to write and develop funding proposals to seek support for them to be able to attend
Finding shared, low cost accommodations, including dormitory stays
The donated use of frequent flyer miles to assist in covering air travel
The Conference also includes a very strong, thematic focus on the intersection between legal education and pro bono and devotes an entire day to this focus.
Furthermore, the Asia Pro Bono Conference, and in particular the Legal Ethics Forum, combines legal ethics with a pro bono ethos to provide a detailed insight into these fields and how they cohesively create a strong and noble legal profession. The Conference formally connects both the global pro bono movement with the legal ethics and professional responsibility movement, as it recognizes that they are inseparable when working to really achieve access to justice. In doing so, this helps to create a progressive catalyst between two groups that are often "siloed" from each other and builds in synergies not seen in other events of this type.
Furthermore, the Conference is organised in a very professional but cost saving manner. Consequently, a significant amount of the revenue raised for the event is used to support deserving persons to attend from the region who otherwise would not be able to. It is very often these persons who are some of the key providers of pro bono services and are instrumental in the pro bono movement.
Finally, it is important to note that the Conference is conducted in a number of regional languages, not just in English and the language of the host country. This allows a greater diversification of persons from the region to attend. The networking of participants from all these different countries, having the ability to effectively communicate with each other, plays an integral role in spreading and strengthening the legal ethics and pro bono ethos throughout the Asia region and makes this a truly Asia Conference.