By Alexis Duecker, BABSEACLE Legal Intern, Chiang Mai, Thailand
In the months before October 2014, BASBEACLE staff and volunteers in Thailand, Vietnam, Laos, Myanmar, Singapore, and Hong Kong spent our time busily preparing for the 3rd Asia Pro Bono Conference in Singapore. The 3rd Asia Pro Bono Conference was held from 2 to 4 October 2014, and brought together over 350 delegates from more than 25 countries from across the legal community including students, lawyers, legal educators, judges, government officials, and civil society professionals. It was an inspiring celebration of pro bono in the region and around the world. The theme of the Conference was "creating vibrant pro bono ecosystems to strengthen access to justice."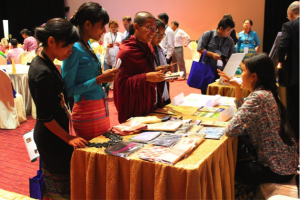 The Conference was co-organized by Bridges Across Borders Southeast Asia Community Legal Education Initiative (BABSEACLE), BABSEACLE Singapore, the Law Society of Singapore, and the National University of Singapore (NUS). Delegates from around the world attended to build upon the successes and connections established by the previous two Conferences, in 2012 in Vientiane, Laos, and in 2013 in Ho Chi Minh City, Vietnam. This year's Conference took place in two locations: Days 1 and 2 took place at Joyden Hall in the heart of downtown Singapore, while the National University of Singapore, Faculty of Law hosted Day 3.
On the eve of the Conference, NGOs and partner organizations were invited to set up information booths to advertise the work that they do and network with other delegates. Day 1 featured plenary sessions on "The Role of Bar Associations in Supporting Pro Bono," and "Pro Bono Developments and Opportunities in Southeast Asia," and each session consisted of a panel of four to five speakers with a facilitator to encourage discussions and interactions between the panelists and the audience. Following the final plenary session, which addressed the intersection between "In-House Counsel and Pro Bono," the majority of the Conference's breakout sessions took place on Day 2. This year's Conference had a special focus on students' capacity for involvement in pro bono, both during the course of their studies and following their careers in the field. The Conference's focus on students continued into Day 3, which was held at the National University of Singapore's Faculty of Law. Day 3 included three morning sessions, "Pro Bono and Legal Education Symposium/ Southeast Asia Clinical Legal Education Association Conference at NUS," "Variations: Pro Bono in the Life of the Law School," and "Transitions: From Pro Bono Student to Pro Bono Lawyer." Students took centre stage for these sessions, presenting, asking questions and providing input on the state of clinical legal education in their universities and home countries. After a lunch hosted by NUS, the afternoon progressed into several "bonus sessions," designed to provide a forum for in-depth collaboration among student representatives, law lecturers, and legal professionals. Sessions were comprised of the following practical topics: "What Are You Doing Now? Mapping Student Pro Bono Activities," "What Could You Do? Case Studies," "What Ethical Rules Apply? Legal Ethics and Professional Responsibility Training for Students," and "Beyond Singapore: Actions to Grow Student Pro Bono."
The Conference was hugely successful, and we have received much positive feedback from our attendees – for example, students, legal practitioners, and government officials. As Ke Putheavy, a student at Paññāsāstra University of Cambodia, stated, "I am very happy because I have met a lot of new people. They all are very kind and friendly. Moreover, you motivate me to be a good person; and you have persuaded me to do more for my society to help the people who are in need."
The Closing Dinner on Day 2, sponsored by Herbert Smith Freehills, saw the handover of the Conference flag to the Myanmar delegation, boasting 46 participants including students, university faculty, government officials, civil society members, and legal professionals from Myanmar. Lok Vi Ming, SC, President of the Law Society of Singapore, handed the "Viva Pro Bono" flag to U Hla Ko, Chairman of the Mandalay Bar Association during the ceremony. U Hla Ko assured the audience that he would continue to "drink the pro bono tonic to ensure a long life." We at BABSEACLE are very much looking forward to collaborating with our friends and partners in Myanmar, around the region, and globally, in anticipation of the 4th Asia Pro Bono Conference & Legal Ethics Forum, which will take place from 3rd to 6th September, 2015 in Mandalay, Myanmar. Please visit https://www.probonoconference.org/ for more information, and we hope to see you in Mandalay in 2015. Thank you to our friends, sponsors, and supporters who helped make this year's Conference the overwhelming success that it was, and we hope you will consider becoming involved in the 4th Asia Pro Bono Conference & Legal Ethics Forum in 2015.