Amni Raihan Abdul Rahman, Nikki Davies and Kanika Kirpalani Volunteers from UWCSEA.
The 3rd Annual Access to Justice Public Interest Fair was held on 16th November 2013 at the Kantary Hills Hotel in Chiang Mai, Thailand.
The Access to Justice Fair is an event hosted by Bridges Across Borders Southeast Asia Community Legal Education Initiative (BABSEA CLE) and its local Thailand organizational partner CLE Foundation
BABSEA CLE and CLE Foundation are non-government organisations committed to Clinical Legal Education and the pro-bono lawyering movement. As such, BABSEA CLE's mission is to create awareness of social and access to justice issues within Southeast Asia, by educating local communities about their rights. BABSEA CLE holds programmes for volunteers, overseas Externs, Law students and lawyers to carry out this mission.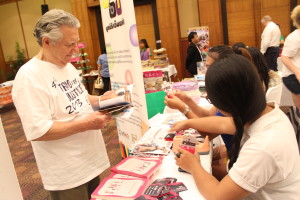 The Access to Justice Fair is one of BABSEA CLE and CLE Foundation's major annual events. The Fair is a networking hub for various organisations and foundations in the Southeast Asian region, to share their experiences and efforts in furthering access to justice. Indeed the Fair is a way for likeminded organisations to come together in their shared objectives of creating awareness about social issues faced by marginalized groups. Organisations from this year's event supported a diverse range of marginalized social groups, including; disadvantaged children, single mothers, transgender people, the elderly and many more. All participant organisations enjoyed the opportunity to present their work and were met with great enthusiasm from other attendees.
Amni Abdul Rahman, Nicola Davies and myself, Kanika Kirpalani, have been volunteering with BABSEA CLE in their Chiang Mai, Thailand office for three months. Having recently graduated from United World College South East Asia (UWCSEA), we undertook a volunteer programme through UWCSEA's gap year office. During our placement at BABSEA CLE, we have worked on advertising the organisation's major events such as the Access to Justice Fair and the Trio for Justice marathon. Additionally, our work has included; teaching both English and human rights classes, writing reports for designated funders and articles for the BABSEA CLE newsletter, designing fundraising products, and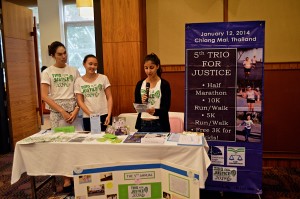 much more. In our time at BABSEA CLE, we have gained valuable experience about the inner workings of a non-government organisation, as well as familiarized ourselves with the Clinical Legal Education movement.
Indeed our experience with BABSEA CLE has allowed us to draw on values advocated and learnt at UWCSEA. Values such as social awareness, ethical reasoning and open-minded communication have been essential to our work. Our role in the Access to Justice Fair was mainly as part of the BABSEA CLE team. We worked for months prior to the event, advertising, gaining participants and preparing materials. On the day itself we worked at BABSEA CLE and CLE Foundation, Trio and UWCSEA tables, giving information about the respective organisations. The atmosphere at the Access to Justice Fair was lively and dynamic atmosphere, with all participants displaying enthusiasm towards networking with likeminded peoples. From our perspective we were able to appreciate the objective the Fair, as a means of creating greater awareness of marginalized groups and social justice issues, to further the outreach of access to justice overall.
The press release and video for this event can be found at the link here