One of BABSEACLE's guiding principles is embodied in the Margaret Meade quotes,  Never doubt that a small group of thoughtful, committed people can change the world; indeed, it's the only thing that ever has." On May 7, 2016 in Budapest Hungary, Central European University (CEU) recognized a small but growing number of these individuals during its 25th Anniversay Alumni Reunion.  BABSEACLE's Co-Director/Co-Founder and 2003 CEU Legal Studies Department (Human Rights) Alumnus Bruce A. Lasky was one of these individuals acknowledged as he and 24 ofther alumni were presented awards at the University's 25th gathering.
The event was attended by more than 500 CEU graduates from across the globe, where they reconnected, shared past and current experiences and celebrated together the magnificence of the CEU mission to ensure a more open society worldwide.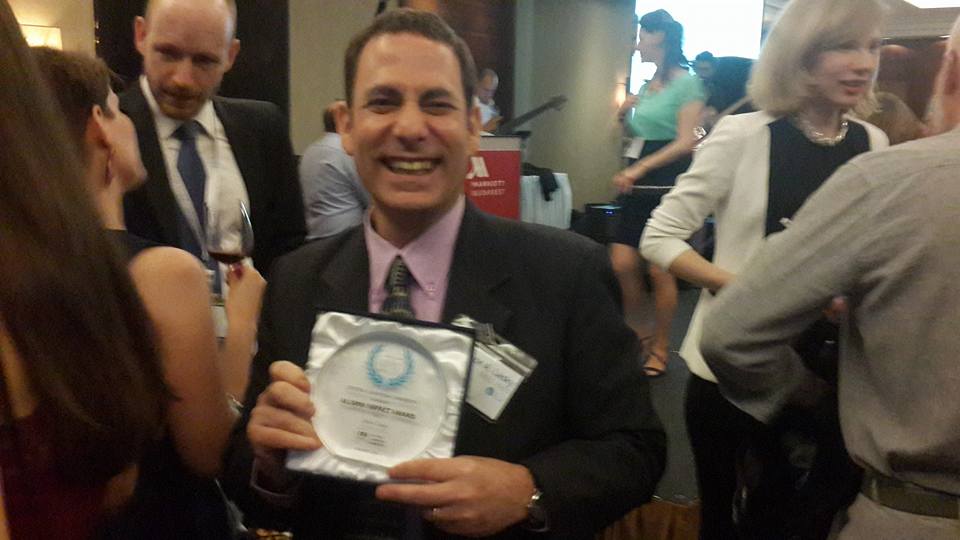 BABSEACLE felt great pride in having one of its own directors clearly acknowledged for his long, expansive and impactful work in helping to ensure greater access to justice through the strengthening of legal education. He also was recognized as a core CEU alumni supporter which has included an annual Human Rights Award presented to a top graduating student in the CEU Legal Studies Department Human Rights Stream who has both demonstrated an exceptional commmitment to furthering human rights/access to justice as well as academically excelled at CEU. Bruce was recognized for all these things as well as for his time at CEU where, amongst many things, he served as the University's Student Body President.
For those who are unfamiliar with CEU we invite you to visit the university's website at: www.ceu.edu.  The website succinctly explains that:
Central European University is a graduate-level "crossroads" university where faculty and students from more than 100 countries come to engage in interdisciplinary education, pursue advanced scholarship, and address some of society's most vexing problems. 
It is accredited in both the United States and Hungary, and offers English-language Master's and doctoral programs in the social sciences, the humanities, law, management and public policy. Located in the heart of Central Europe — Budapest, Hungary — CEU has developed a distinct academic and intellectual focus, combining the comparative study of the region's historical, cultural, and social diversity with a global perspective on good governance, sustainable development and social transformation. 
Founded in 1991 at a time when revolutionary changes were throwing off the rigid orthodoxies imposed on Central and Eastern Europe, CEU is based on the premise that human fallibility can be counterbalanced by the critical discussion of ideas and that this critical spirit can be sustained best in societies where citizens have the freedom to scrutinize competing theories and openly evaluate and change government policies.
With approximately 1,400 students and 370 faculty members from more than 130 countries, CEU is one of the most densely international universities in the world. Its rare mix of nationalities, ethnicities, and cultures creates an ideal environment for examining such "open society" subjects as emerging democracies, transitional economies, media freedom, nationalism, human rights, and the rule of law. It also brings multifaceted perspective to all aspects of community life. 
CEU is known for excellence in teaching and research—with purpose. At the core of its mission lies a set of principles: the pursuit of truth wherever it leads, respect for the diversity of cultures and peoples, and commitment to resolve differences through debate not denial.
The return to Budapest for Bruce Lasky was such a delightful and inspiring experience. Being surrounded by hundreds of persons from countries and continents near and far, all involved in "making a difference" was to him something dreams are made of. When he was given the award, by outgoing CEU President John Shattuck,  tears swelled in his eyes as he looked upon a room filled with persons symbolizing Margaret Meade's philosophy. All of them are changing the world and each of their experiences at CEU has helped them to do so.
BABSEACLE would once again like to thank CEU for all the work it continues to do as it enriches the global with graduates like Bruce.  Our organization is honored to walk alongside you.