Each year Bridges Across Borders Southeast Asia Community Legal Education Initiative (BABSEACLE) is honored to provide one of the many exceptional graduates of the Central European University (CEU) Legal Studies Human Rights Department with a Student Award.
This year, as those in the past, we have reviewed a number of incredibly worthy and deserving students for this award.  Each of them demonstrated true dedication to the commitment of access to justice. Each also demonstrated very high academic achievement at CEU.  All of them, in our opinion, and many more, were fully deserving of this and many other awards. Knowing this and with the need to make a decision, this year BABSEACLE was honored to give them award to Felicia Nica from Romania who both excelled as a student at CEU and has devoted her professional legal career in providing legal services to migrants and refugees and intends to keep doing so.
The below is the letter of acknowledgement and thanks on the part of Felicia upon learning she received the award. We are hopeful in reading this you are filled with as much inspiration and joy was we were in receiving it.
By Bruce A. Lasky   Bridges Across Borders Southeast Asia Community Legal Education Initiative  (BABSEACLE) Co-Founder/Director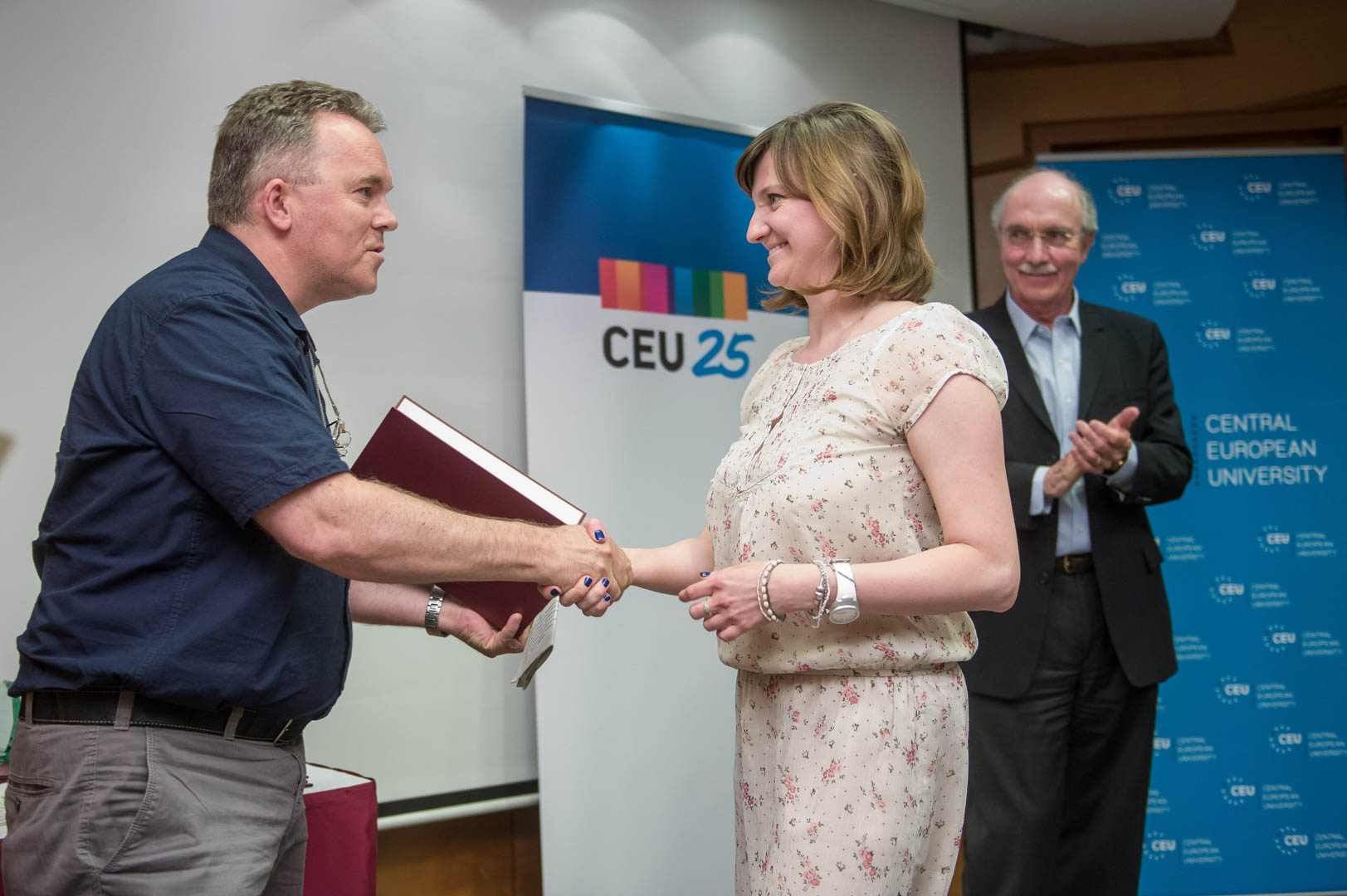 Dear Bruce,
It is with great surprise and feelings of unexpected joy that I receive this prize and your kind letter. I was not aware of the initiative you set up and, perhaps, even if I had known about it, I would probably have doubted that I could be worthy of this. I am humbled by the distinction, but at the same time I feel incredibly inspired by it.
Your words serve more than an introduction to a prize for a student. I read the letter several times and I like to look at it as a time-window to the future. I would like to imagine that in five, ten or fifteen years from now I will be able to inspire others who are just at the beginning of their road – like me now, and proudly show the results of my work with the aim of motivating colleagues, students, family and friends. I also think about the period between this and that moment; I think about achievements and I think about people who received justice, people who are living a safer and better life because of the work I plan to do.
Working with civil society organizations or as a human rights lawyer means that sometimes the results of your work are not so self-evident and one has to make efforts to see them. Having someone who took the same initial steps as I do, had success in promoting justice and human rights and then returning to inspire others to have a positive drive in their efforts is a recognition which far exceeds my expectations.
I am about to graduate from CEU which has been for me, just as it was for you, a wonderful experience. I have met inspiring professors, I have gained valuable knowledge, I have made friends and I have put in an effort I was not aware I had the capacity for. I am leaving with the firm conviction that we must seek justice and truth, and we have to protect those who cannot protect themselves. But as I leave the wonderful bubble-like micro-cosmos of CEU I already see that truth is not valued equally by everyone; fear and threats are mixed to create hate. Truth and our arguments based on that are not enough anymore – fear, hate and ignorance seem to be feelings that can be triggered much more easily. This is where I would like to refer to a part of your letter which inspires me the most: we need to stay connected, we need to remain involved and we need to support each other in our ventures. It is perhaps this context which will give us strength to pursue justice and respect for human rights in today´s environment and it is our like-minded colleagues who will further inspire us to continue to advance our notions of justice and equality.
I will take your advice and I will aim to remain connected to CEU, I will work towards promoting justice and human rights and I hope I will have the opportunity to inspire others to do the same.
I thank you once again for this unexpected and truly wonderful prize and I hope to meet you in the future.
Yours sincerely,
Felicia Nica