By: Bruce A. Lasky and Charity Ahumuza
In May 2003, BABSEACLE Co-Director Bruce Lasky graduated from Central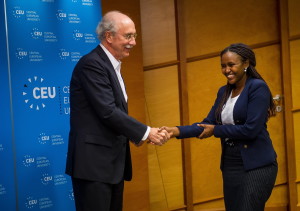 European University (CEU), Budapest, Hungary with an LL.M. in International Human Rights. During the graduation ceremony he surprisingly received the Outstanding Human Rights Student Graduate Award. Reflecting on this experience and how it positively impacted him, in 2011 BABSEACLE began a similar award program for CEU Human Rights Stream Legal Studies Department graduates. Each year in May BABSEACLE, in collaboration with the CEU Legal Studies Department, selects one of the top Human Rights graduates for such an award. The selection is based both on academic achievement as well as proven commitment to access to justice, human rights initiatives. The selection process is never easy as CEU has a large pool of very deserving, devoted persons.
This year the award went to Charity Ahumuza, from Uganda, who has dedicated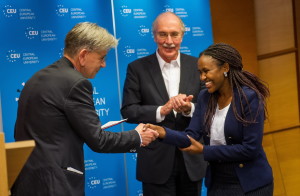 her life to helping to ensure access to justice to refugees and asylum seekers.
BABSEACLE is proud to have persons like Charity engaged in the meaningful and vital work she is. It is equally proud to continue it strong, supportive partnership with CEU.
Below is the letter Charity wrote to BABSEACLE upon receiving notice of her having been chosen.
Dear Mr. Lasky,
I would like to express my heartfelt gratitude to you and Bridges Across Borders Southeast Asia Community Legal Education Initiative (BABSEACLE) for honoring me with the 2014 BABSEACLE/CEU Legal Studies Human Rights Student Award. I am truly humbled by this recognition.
Before joining Central European University I was heading the Access to Justice thematic program at Refugee Law Project an Outreach project of the School of Law, Makerere University. The Refugee Law Project provides legal aid and psychosocial services to forced migrants. It also undertakes policy focused research and advocacy on a range of issues that affect forced migrants including refugees, asylum seekers and internally displaced persons in Uganda. Through this engagement I provided legal representation to a number of clients in courts of law, police stations and before other quasi-judicial bodies. I was also greatly involved in carrying out legal education among forced migrant communities and a range of other stakeholders and duties bearers such as host communities, immigration officials, police and prison officers.
This award is particularly special to me because it does not only represent a deep acknowledgment of my academic achievements but it is also a mark of appreciation for the work I have done for one of the vulnerable categories of the world population – refugees and asylum seekers. And to be honored on 20th of June, a day marked as the World Refugee Day was even a more incredible coincidence. The award and timing reinforce the commitment I have held in promoting a just society by facilitating processes that guarantee the enjoyment of human rights for all.
I plan to return to Uganda upon completion of my studies to continue my work with the Refugee Law Project. At an appropriate time when the opportunity presents, I intend to move on to an international humanitarian organization where I will be able to reach out to many people across borders. A decision to commit my efforts to the protection of Human Rights is one that I made at an early stage of my legal education, and it is one for which I obligate my professional future.
 I am honored to have joined Central European University. CEU has provided me with the additional knowledge and skills and also exposed me to a number of experiences that I am confident will enhance my career as I continue to serve those that are socially vulnerable and marginalized.
In a very a special way, I would also like to acknowledge and appreciate the Department of Legal Studies, alumni scholarship donors and the entire Human Rights Class (2013/2014) for the effort they have placed to facilitate me this far. I believe awards are won not by a single claim of brilliance but through a concerted effort of many that make investments in all forms and sizes. I am indebted to each one of them.
Once again I cherish the honor and will work to dignify your confidence in awarding me.
Thank you.
Best regards,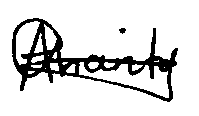 Charity Ahumuza Magara