by Josefina Gamundi, Chiang Mai Volunteer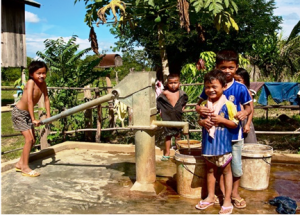 When Bruce Lasky, one of the co-directors and founders of BABSEACLE, left Gainsville, Florida in 2000, to backpack around Asia, he had already been a public defender of marginalized people in the U.S. justice system for eight years. Who could have imagined the incredible work he would do in the next 12 years, or the many people in marginalized communities in Southeast Asia whose lives he would touch, in so many ways and on so many levels?
It all started when his mother, Sylvia, knowing the poverty in this part of the world, asked him to seek out a few worthy kids to sponsor. Guided by her request, and with donations from friends and family, he started an English language and supplementary education school in Cambodia in 2001. Bruce's uncle, Daniel Lasky, got his trade union to donate used computers for a computer class. And after she died in 2002, Bruce renamed the school the Sylvia Lasky Memorial School.
School is Not Enough
The school was in the small village of Pursat, Cambodia, and had 65 young students. The children were eager to come to the school, but Bruce soon realized that for many of them, this was not enough. It was difficult for them to attend class, because they lived far away and were needed to help support their families. So Bruce and others joined together to give rice and bicycles to the children's families.
As other needs arose, Bruce was able to partner with like-minded people, such as Susan and Richard Mastin and the members of Richard's Rotary Club back in Florida. In this manner, Sustainable Cambodia was established in 2004.
I had the privilege of visiting Sustainable Cambodia in August. I witnessed the won-derful work they are doing, and met some of the people whose lives have changed because of  such work.
I saw the happy faces of eager students, and many spoke English very well. To foster social change, communities must first become empowered, and when that empowerment becomes sustainable, people can find their voice and defend their rights.
Pass It On
Sustainable Cambodia goes further than the proverbial goal of "teaching a person to fish". They teach communities how to teach each other how to "fish". For example, each village uses a "pass-it-on" element of community service, in which the grant family of a pregnant farm animal has the choice of keeping the livestock, or its offspring, but not both. They must donate one or the other to a non-family neighbor.
In this way, surrounding families of that village are progressively enriched, then the families of surrounding villages, and so on. This model sustains villages and empowers people by improving the quality of their lives. Villages in the Sustainable Cambodia network have used this method with animals, fresh water, irrigation, schools, agriculture, marketable skills and income generation.
Today, Sustainable Cambodia has a local staff of 115 people, working in 19 villages and 23 communities of four provinces, reaching about 25,000 people in over 4,000 families. They help provide English, math, computer and craft classes to nearly 3,000 people.
In addition to health care, micro-business and crop loans, the organization has granted 105 university scholarships and has constructed 334 water wells, 929 latrines, 1,719 bio-sand sanitation filters, and 11 community fishponds.
Understanding the need to combine development and general education with legal empowerment, Bruce Lasky went on to co-found, with Wendy Morrish and Kevin Morley, Bridges Across Borders Southeast Asia Community Legal Education Initiative (BABSEACLE).
Perfect Partners
BABSEACLE works in partnership with Sustainable Cambodia. As Sustainable Cambodia helps rebuild the lives of people, and of whole communities, BABSEACLE teaches legal education and access to justice to organizations that work with community members. These organizations then teach others how to teach, how to be empowered, and how to be aware of the ways to access their rights. In this way, both Sustainable Cambodia and BABSEACLE empower communities to be sustainable, and are two sides of the same coin.For more information on Sustainable Cambodia, go to www.sustainablecambodia.org