ILRC and BABSEA CLE: Promoting Clinical Legal Education in Indonesia 
By Uli Parulian Sihombing, Indonesian Legal Resource Center (ILRC)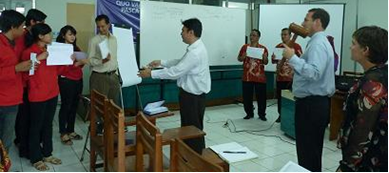 The Indonesian Legal Resource Center (ILRC) and Bridges Across Borders Southeast Asia Clinical Legal Education (BABSEA CLE) in Thailand have been co-operating to promote CLE in Indonesia. Cooperation in-cludes information sharing in relation to CLE activities, materials and capacity building. Bruce Lasky and Wendy Morrish, Directors of BABSEA CLE, participated in the first conference on CLE in Jakarta, 20-23 September 2011. Supported by Open Society Justice Initiative (OSJI), the conference was organized by the ILRC, the Law School of Islamic University of Indonesia, Law School of Pasundan University, Law School of Airlangga University, Law School of Hasanudin University and TIFA Foundation.
At the conference, Bruce and Wendy shared their experiences in developing CLE programs in Southeast Asia and showcased practical models of CLE programs. Their presentation was a helpful demonstration of the basic concepts of CLE and they taught the audience how to choose an appropriate model of CLE for use in Indonesia.
To disseminate the idea of CLE, the ILRC and BABSEACLE, in cooperation with the Law School of UNISBANK University, held a lecture on strengthening access to justice by developing legal clinics. The public lecture was held in Semarang on 26 September, and was attended by law professors, legal professionals, law students and other communities. Following the lecture, ILRC and BABSEA CLE conducted a training workshop on how to set up a new clinic to be run by the Dean of Law, lecturers, the director of the clinic, and law students. Bruce and Wendy introduced new components of the clinic and teaching methods. The interactive teaching methods and participation-based training used in the workshops surprised the participants and inspired many law lecturers, who want to practice the same methods in their own teaching.
ILRC is interested in participating in the BABSEA CLE externship program and will be sending an Indonesian intern to Thailand to be trained in CLE.  ILRC and BABSEA CLE are committed to continuing their cooperation in promoting CLE in Indonesia.