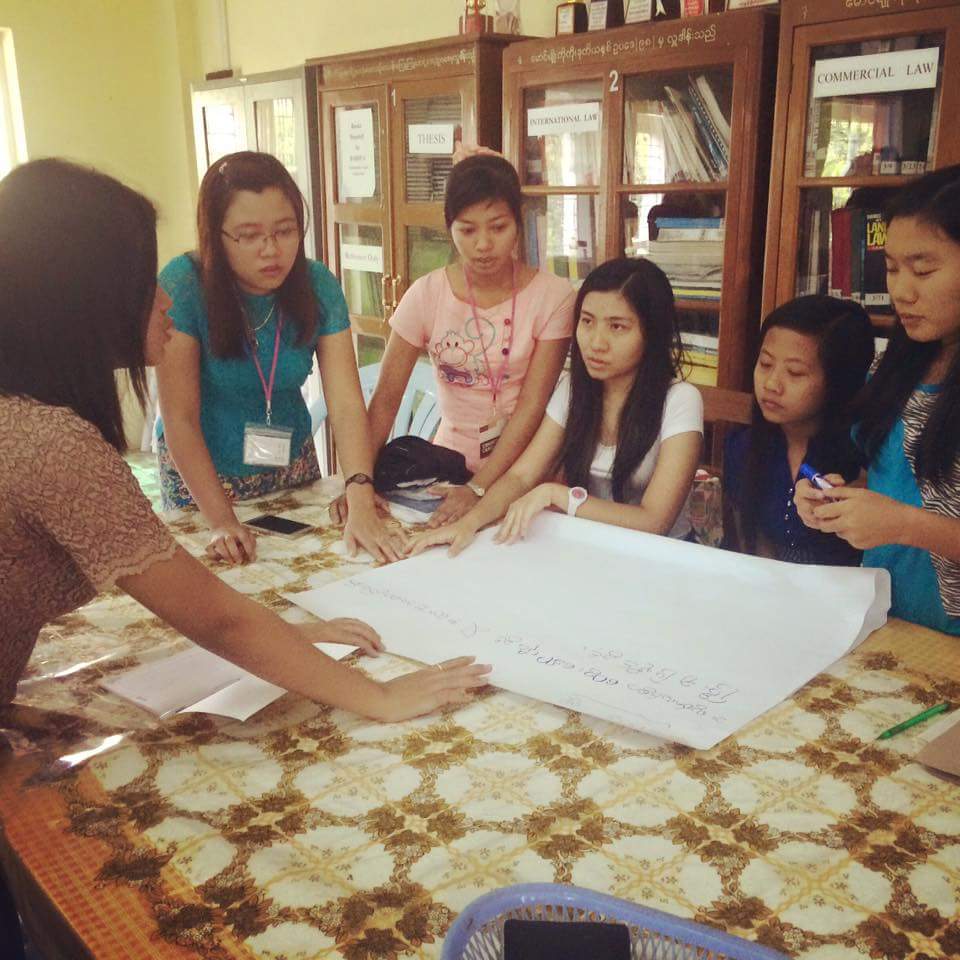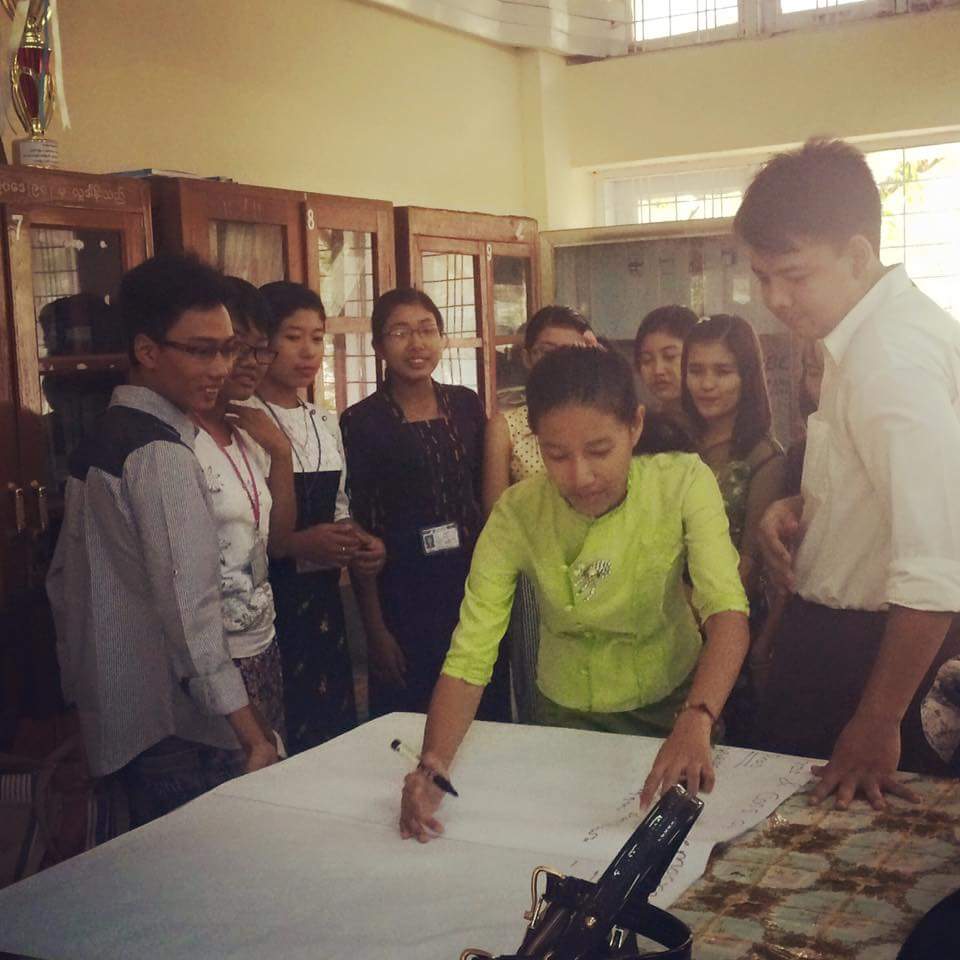 Although there have been no student-led law students' groups in Myanmar, for many years, the country is transforming, and we see a lot of positive changes, especially in the important role that law students play. Encouraged by Dr. Daw Mon Mon Tar, Professor and Head of Department, Dagon University (DU) law students formed a law students' group, called the Dagon University Law Students' Association (DULSA), at the beginning of the academic year, December 2015.
DULSA started off, with a small discussion program, in a fourth year law class, and was  shaped by some enthusiastic fourth year law students. They realized that a student-led legal group would be beneficial, not only for the organizers, but also for every law student, country-wide. Aiming to motivate DU law students, they also believed that, through peer education, which is one of the goals of DULSA, they can inspire and encourage students, to become interested in law and legal studies.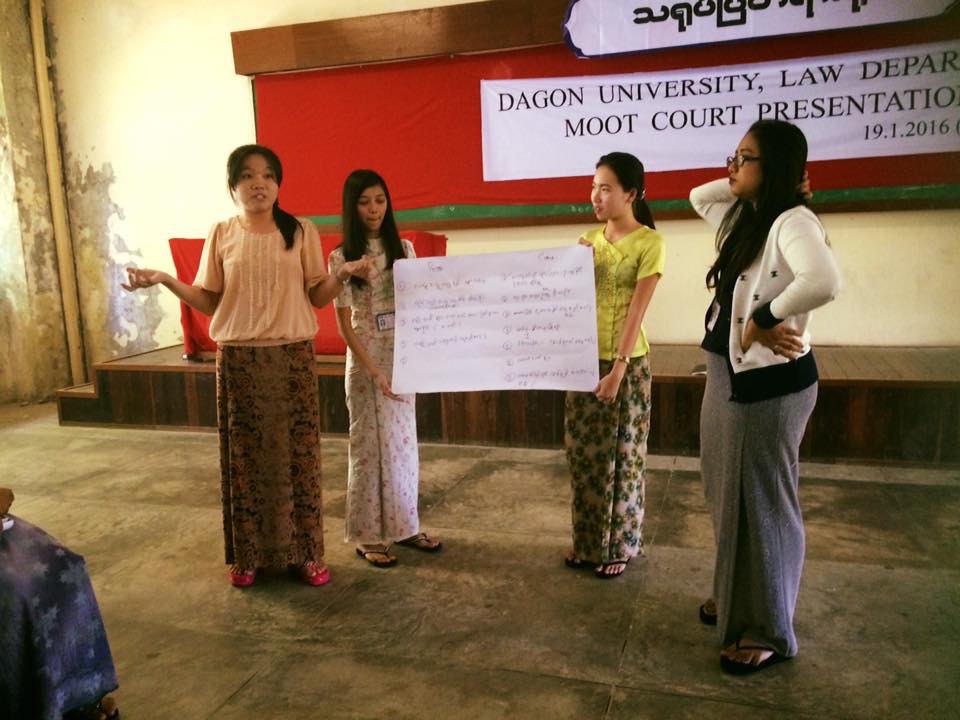 At the inaugural discussion program, DULSA managed to bring great interest to, and receive great attention from, fellow classmates. With such good results, DULSA is holding legal discussions, every week. Because its constitution is the foundation of a developed state's legal system, the very first topic of discussion was the legal system of Myanmar.
Pursuant to its cooperation with other student-led groups, DULSA has conducted joint activities, including a mock trial workshop, this past January, in collaboration with the Yangon Debate League, a debate club that was formed by Yangon University students. Through such academic functions, DULSA desires to encourage and enhance the capabilities of Myanmar law students, in order for them to become legally skilled, socially responsible, academically committed and internationally minded.
To achieve these objectives, DULSA is scheduling legal seminars and symposiums, with legal scholars. Since practical exposure to real-life experience is a necessity, DULSA is seeking internship/externship opportunities, with local and international law firms, for all Myanmar law students.
Through the inspiration of, and assistance to, other law students, from all over Myanmar, DULSA is establishing student-led law students' groups, within home universities. In this manner, and in the near future, many student-led law students' groups should emerge, and this will result in huge constructive support to the legal profession, the role of law students and the rule of law, itself.
To keep in touch with DULSA's activities, please subscribe to #DULSA #DULSAForLaw and to our Facebook Page – DULSA (https://www.facebook.com/DULSA-597840400370456/).
By KAUNG MYAT AHKAR , DULSA