Does CLE Really Work?
 Applied Research in Viet Nam Demonstrates Its Effectiveness
Beginning in June 2010, Bridges Across Borders Southeast Asia Community Legal Education Initiative was commissioned by the United Nations Development Program (UNDP) to undertake an applied research project that would serve as a pilot project to explore the applications of various clinical legal education models in Viet Nam. The research was intended to provide UNDP with a review of the data collected from these applications and provide recommendations on potential ways to support CLE in the future.
This pilot study was successfully conducted between June 2010 and August 2011, although it should be noted that BABSEACLE continued to expand the research after August 2011.
The main objectives of the research were to:
Assess the value of different forms of support to clinical legal education programs in Viet Nam.
Contribute to the enhancement of legal education in Viet Nam by improving the educational and lawyering skills value of students enrolled in law faculties.
Assist the government of Viet Nam, university law faculties, UNDP and other development partners in formulating broader and longer-term programs of support.
To implement this pilot project, BABSEACLE initially worked with a core group of eight Vietnamese university Faculty of Law CLE Core Partners (CP) and an additional seven   Vietnamese university Faculty of Law CLE groups, known as Ancillary Partners (AP).
The eight CPs were: Trade Union University; Ho Chi Minh City Law University; Vietnam National University, Hanoi; Vinh University; University of Economics and Law (VNU), Ho Chi Minh City; Hue University; Vietnam National Economics University, Hanoi; and Can Tho University Faculty of Law. The seven AP were: Hanoi Law University; Da Lat University Faculty of Law; Law Department of the National Public Administration Academy (NAPA); HCM National Academy on Political Sciences Law Faculty; the Judicial Academy; and the Law Faculty of the Public Security Academy.
All CP subjects of the research were selected in part because they had already established clinical models or had shown interest in establishing a clinical model. As well, in part to give geographical spread and to cover the 'newer' and 'older' providers, each of the CPs had to agree to the requirements of the research project and to certain limitations in funding.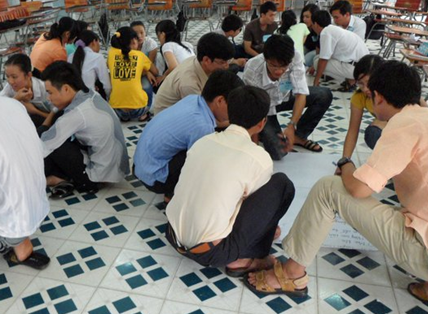 The research was conducted through the use of interviews, meetings, monthly reports with key stakeholders including academic staff, management, students and external organisations (in particular, hosts for student placement trainings), analysis of the Vietnamese legal framework related to CLE and access to justice issues, review of international CLE practices and a review of CLE newsletters, training and related materials. The researchers themselves worked with Vietnamese CLE related program persons in Viet Nam and Thailand and participated in a study visit to Britain.
In order to achieve the main research objectives, the project included a strong technical support component. This was made possible by BABSEACLE relying on its own experienced team and its network of volunteer CLE, legal education and legal experts from around the world, including Australia, Britain, Cambodia, Canada, China, India, Indonesia, Ireland, Laos, Malaysia, Norway, the Philippines, Poland, Russia, South Africa, Thailand and the USA.  The Global Alliance for Justice Education (GAJE), a long-term BABSEACLE partner, also offered significant assistance.
The research findings revealed rich and diverse activity, which was highly valued by all participants. The findings demonstrated that students and law lecturers engaged in the programs learn and teach law better and the exposure to social justice issues has led many of them to engage in additional access to justice activities. The findings have also revealed that there is already a clear and growing collaborative connection between the CLE programs and civil society, as CLE programs throughout the country have been engaged in activities and projects involving civil society organizations. Moreover, the findings revealed that many key target community members have been provided a variety of access to justice services through such CLE programs.
Below is just a small sample demonstrating these findings:
"I have been taking part in CLE for two years. Before I took part in this program, I was not a good student and my study results were not good enough. After joining the CLE program, I changed a lot. In the past, I just thought about myself; I was a little bit selfish. Now I am thinking about the community and thinking about other people. I am pleased to help everyone."
Phuong Linh, Student, Trade Union University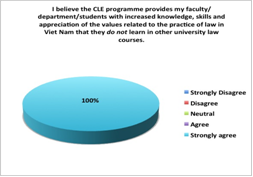 Figure 1: Total dean/program director respondents: 5
"The name of the CLE program speaks for itself: It focuses on training skills, from basic to advanced, for students to prepare to become good legislators, lawyers and judges who will contribute to the goal of building the rules of law."
Le Vu Nam, Dean, University of Economics and Law, Ho Chi Minh City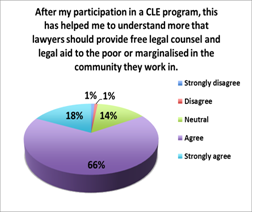 "For lawyers and others who work in the legal profession, ethics is important. For students, ethics is learned through lessons from their seats in the auditorium. The lessons they learn there may be integrated into the overall legal curriculum, but with CLE, their experience in the program will help them accumulate for themselves the values and ethical behavior which is very important. It will be very beneficial for the practice of law, the legal profession or any other career choice."
Trang Van Chu Thi, Lawyer, Hanoi Lawyers Association
Figure 11: Total student respondents: 145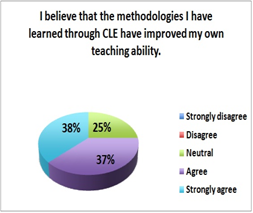 Figure 22: Total law faculty respondents: 8
With the results of this pilot project now in, BABSEACLE has committed to the CPs and APs to continue to work with them to further strengthen their CLE programs and expand the CLE network within Viet Nam and throughout the region throughout 2012 — and well into the future.