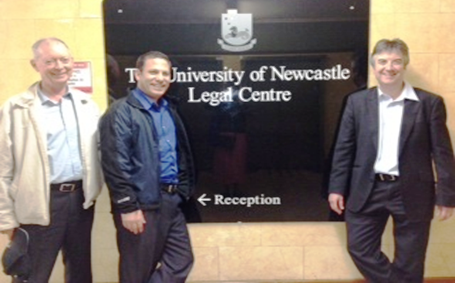 Bruce Lasky (center) with Dr Colin James, Senior Lecturer and Research Ethics Advisor, and Director Shaun McCarthy, University of Newcastle Legal Centre.
BABSEACLE is working hard to develop opportunities for cross-border Clinical Legal Education (CLE) collaborative initiatives as we answer the demand from participants in for a deeper understanding of how the law and CLE work in other countries. Over the next 12 months, we will be focussing on identifying international clinic programs that have similar goals to programs currently being developed in the region.
In May, BABSEACLE made a formal arrangement with CLE programs at Griffith University, Monash University and Newcastle University in Australia, to place Vietnamese CLE law lecturers at those universities to follow how an Australian course on Clinical Legal Education is taught over a full academic semester.
BABSEACLE will assist eight Vietnamese law faculties to place, train and support clinicians in Australia for a two to four months during 2012-2013. The Vietnamese Universities are: Can Tho University; Vietnam National University, Hanoi; National Economics University, Hanoi; Trade Union University, Hanoi; Vinh University; Hue University; Ho Chi Minh City University; and University of Economics & Law, HCMC. Both the Australian univer-sities and our Vietnamese partners are looking forward to implementing this arrange-ment. This type of collaboration was one of the key recommen-dations to come out of the UNDP research project that BABSEACLE undertook in 2010-2011.
CLE experts who came to Viet Nam from countries in transition — including Poland, Russia and South Africa — or CLE experts who helped develop clinic programs in countries in transition, recommended the need to identify, recruit and build the capacity of a select group of persons coming from various university CLE pro-grams, to build a team of "national CLE Champions".
The idea of building a team of core university partner 'champions' in Viet Nam was discussed during the 2011 National CLE Conference in Hanoi with CLE experts from around the world.  This informal group concluded that finding local 'champions' within Viet Nam was the next step to assuring the success of CLE in that country.
The "team of champions" will start with the core person at each university partner institution who will be well trained in the area of CLE.  Each "champion" will then help their home institutions and others to develop CLE clinics.  In this way, the team will positively assist in the proliferation of CLE through-out Viet Nam.