Louise Moulton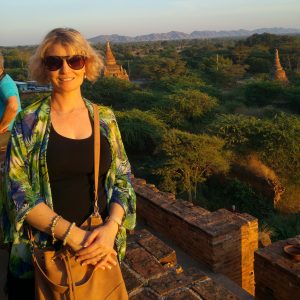 Louise Moulton,Myanmar Extern, 2017
Arriving in Yangon mid-evening, the sights, sounds and smells rushed past me as my taxi delivered me into the city. This was my first experience of South East Asia and it was certainly an initial assault on the senses. Your heart and mind will be simultaneously challenged as you journey through a week of intense yet valuable teacher training, followed by a whirlwind two weeks of lesson preparation, lesson delivery and evaluation.
What does a law student get out of teaching social justice and professional ethics in English to Myanmar university students? The answer – a life-changing partnership with the future voices of Myanmar. Your small gift of time, intellect and English language skills will make a lasting impression on your students. You will deepen your passion and commitment to social justice and develop your skills in translating complicated legal jargon into plain English for the benefit of your client in need.
Conditions are trying yet developing in Myanmar. The professional programme coordination and support will ensure that you are prepared to face the daily challenges of heat and lack of resources. Your sense of pride and accomplishment will be at bursting point at the end of your teaching when you take a moment to reflect on the significant impact you have had on this fascinating community. Your gift of time is a gift of hope.